Scaffolder qualification course
Scaffolding assembly training
The training centre "ERGON" provides training in scaffolding assembly and disassembly. The work in this position is usually carried out in the construction sector. Training with us will significantly enhance your competence for the job.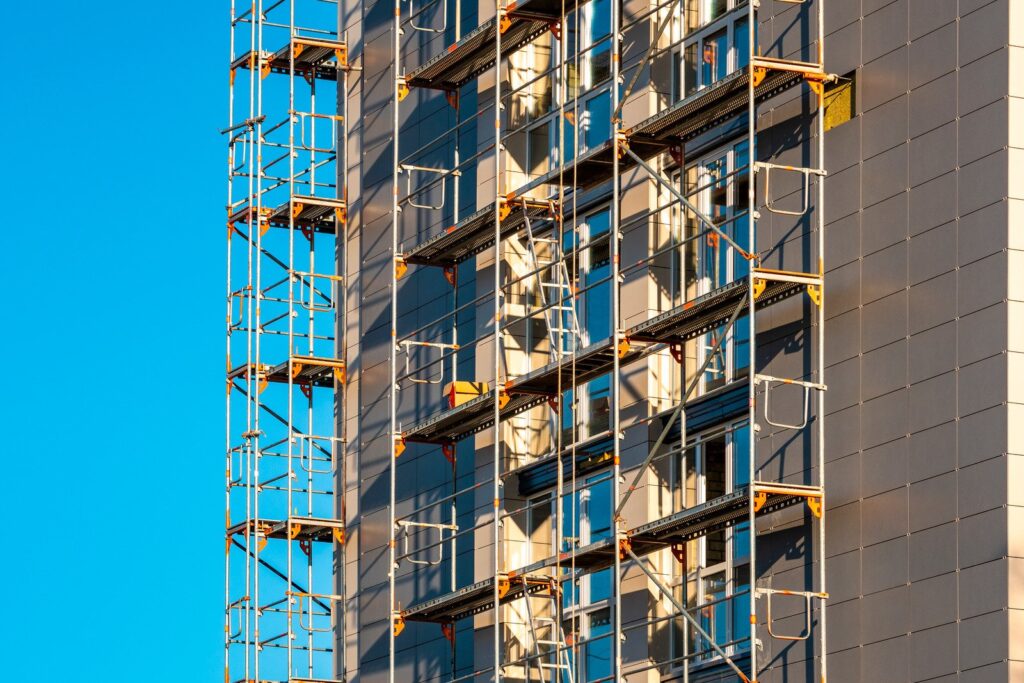 Training
Training at our centre, will enable you to gain the required qualifications needed to work as a scaffolder. Participation in the training will prepare you theoretically and practically for the job. After the training, you will take a state examination before a commission from IMBiGS in Warsaw. If you pass the test, you will be issued with a Working Machinery Operator's Book. The authorisations are issued indefinitely and are valid in the countries of the European Union.
Training program
The scaffolding installer course is divided into theoretical and practical parts. At the end of the training you will have acquired the necessary skills to do your job.
Key issues when learning at our centre:
site organisation,
health and safety rules for assembly and disassembly,
familiarisation with technical documentation,
securing the work area,
building structures,
distinguishing between assembly structures,
condition monitoring.
Our company is based on modern equipment and designs, which definitely facilitates training.
Where do we conduct training?
Our head office is located in Warsaw, but you will find us all over the country. The company "ERGON" offers travel to the customer, so we conduct courses and training in all over Poland.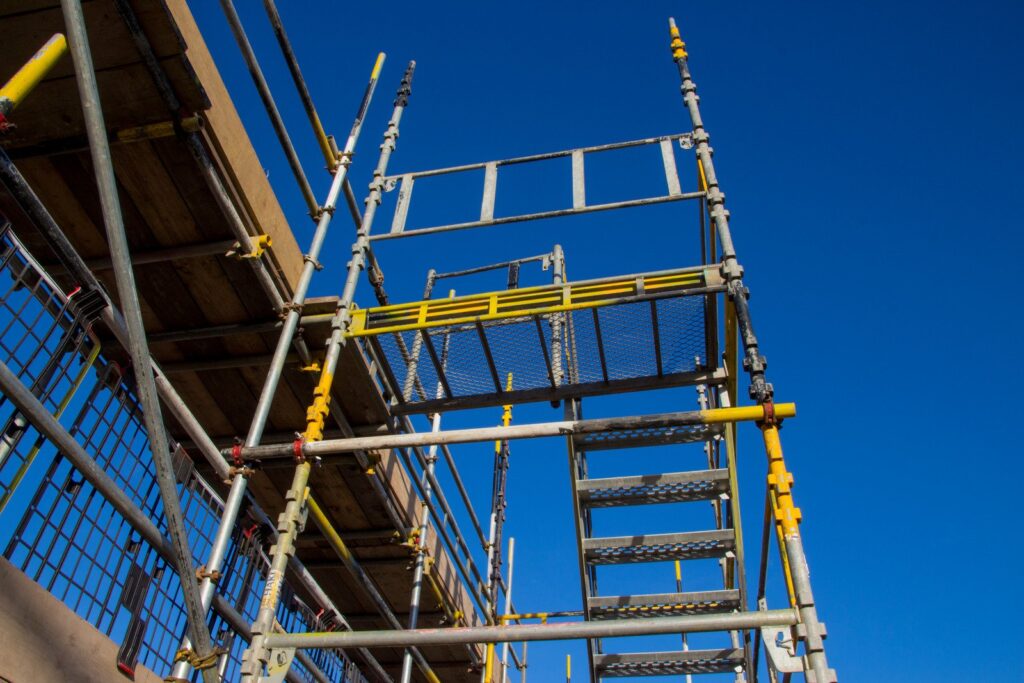 What is scaffolding?
Scaffolding is an elevated structure that enables work at height. Depending on the type of scaffolding, we can provide heights of up to several tens of metres upwards. Scaffolding is used for internal and external work in the construction sectors.
Classification and types of scaffolding
Due to design types are distinguished:
modular,
columnar,
stand,
cantilevered,
framework.
Due to method of use We divide them into two structures:
movable, or mobile,
immobile.
Due to material of construction:
aluminium,
steel,
wooden.
Who is an editor?
A scaffold assembler is a construction worker responsible for assembling and dismantling scaffolding consisting of platforms and bays. His/her main task is to ensure that the scaffolding structure is safe and stable. The person in this position must have the ability to read technical drawings and building plans. The ability to read well is essential for the correct erection of scaffolding. The work of a scaffolder is very responsible and good physical fitness and motor coordination are required. The profession of scaffolding assembler is not an easy one, but it will definitely broaden the scope of work on the construction site.
The assembler is responsible for the safety of the workers using the scaffolding, as well as the bystanders next to them. It is a very responsible job and one small error in the construction can lead to an accident, so it is essential to complete a course and become qualified.
Post-course work
The work of a scaffolder is used in the construction and renovation field. Scaffolding is an essential part of the construction site, for jobs such as putting up new buildings and renovating older ones. Scaffolding provides access where machinery cannot reach or where it is dangerous. The work of a scaffolder is quite dangerous and you need to have the right qualifications. Because of the increased responsibilities, we can count on promotion and greater earning potential.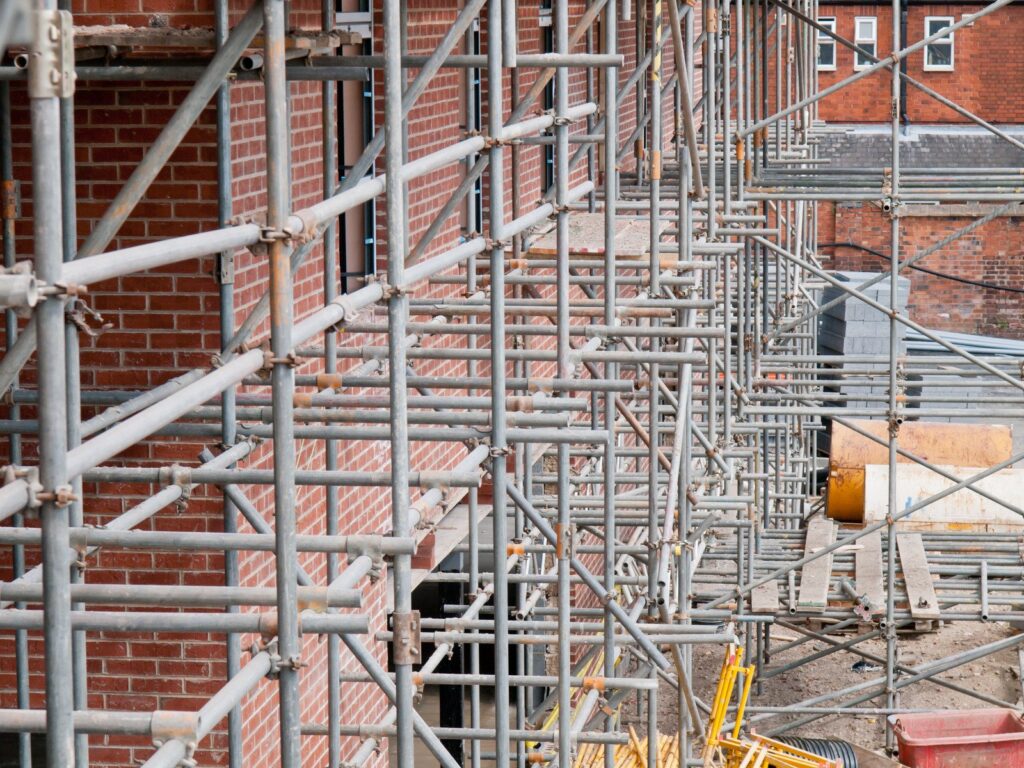 The most common job as a scaffolder:
plastering work,
façade painting,
insulation of buildings,
window cleaning in high-rise buildings,
scene-building.
Earnings as a fitter
Salaries for the position of scaffolding installer depend on factors such as, experience, qualifications and employer. However, professionals in this position enjoy a good salary.
Requirements
at least 18 years of age,
minimum primary education,
no medical contraindications.
The course participant must not have a fear of heights and should be physically fit.
Other courses:
telescopic handler operator course,
first aid training,
mountaineering courses,
forklift operator course.
Questions and answers
Do I need to have a university degree to join the course?

A minimum of primary education is a prerequisite for the course.
Where is the training provided?

We conduct trainings and courses all over the country. Training courses are conducted at our headquarters in Warsaw, but we also have a mobile offer with access to the address of your choice.