A lorry trolley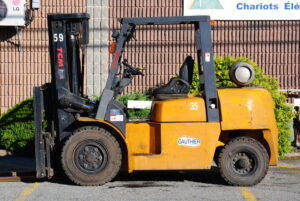 Its exact name, as used by the Office of Technical Inspection (UDT), is mechanical lift truck. These trucks have forks attached to manipulate loads. Additional equipment is adapted to:
lifting loads on pallets or non-palletized,
lifting to a height enabling the storage of the load,
nesting or picking up from nests.
So what are the types of forklifts and what are the groups for?
Type I: reach stackers
It is an electrical device that allows you to lift, move and rotate the load by extending the mast. The whole job of this type of trolley is that the mast is moved towards the center of gravity of the machine. Which is extra advantage reach trucks? They are distinguished by their lower weight than the others, they can work in narrower working aisles, and thus ensure greater efficiency. The main workplace for warehouses, where with this device you can easily and quickly remove and lift loads to a height of more than 10 m! Moreover, auxiliary devices can be used, which will further facilitate the maneuvering. Well disadvantages? Reach forklifts are a big expense for every employer.
Type II: forklifts
This type of forklift truck has been designed for lifting especially heavy loads, e.g. barrels, working machines or building materials. The ideal working environment where the lift truck will fulfill its functions will be all kinds of production halls or warehouses. This type of stroller is above all stands out small size and countless ways of maneuvering. It is possible to divide the lift trucks internally into models with a pedestrian operator and models with a seated operator (additional cabin element). So it all depends on the requirements and preferences of the person concerned. Compared to other types of forklifts, lift trucks are a bit worse in terms of the level of extension of the cabin and the control panel. However, this does not prevent them from fulfilling their basic function.
Type III: forklifts to lift the operator and load
In the case of lift trucks, it was about transport to certain heights - time for ground transport. The trolleys that carry the operator and the load are designed for this task. Perfect for deliveries and transporting goods in a warehouse, hall and large store. Due to the drive, the following are distinguished:
Electrically powered lifting trucks - equipped with an electric motor,
Hand-operated trolleys - powered by the power of human muscles.
Due to the construction of the lifting cart, the following can be distinguished:
Stacker lifting forklifts,
Flatbed forklift trucks,
Lifting forklifts with a cabin or a chair.
The main purpose of the lift trucks is to transport loads in large areas in full comfort for the operator. But it is not everything! In the construction of this type of trolley, you can also find a mechanism that allows you to lift the load. However, according to Polish law, the maximum height is only 30 cm.
Type IV: Variable Reach Forklifts or Telescopic Handlers
Telescopic handlers are nothing more than variable reach forklifts. The machine stand out not only larger sizes, weight or greater lifting capacity. This type of forklift truck works well in specific industries such as:
renovation and construction,
agricultural,
industrial,
builder,
port and railway.
Telescopic loader It is used for assembling work equipment, unloading materials using pallet forks and transporting materials. The jib equipped with a working platform for operators is also an important component. The variable outreach enables heavy loads of up to 22 tonnes to be lifted from a height of 2 to approx. 30 m! In addition, they have, among other things, 4-wheel drive, which enables efficient work on problematic ground. The machine is ideal for transporting earth or concrete elements. It is extremely useful for loading and unloading pallets. Its multifunctionality is appreciated especially in the agricultural sector. Why? Telescopic handlers can be fitted with equipment designed for agricultural work - in this way the telehandler can be used as a snow plough in winter and as a mower in summer! Multifunctionality is a feature that makes this machine truly indispensable for many jobs.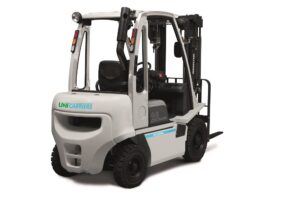 What to pay attention to when choosing a truck?
There are many aspects that are worth paying attention to when buying a forklift. In addition to defining the tasks for which the stroller will be intended, it is also worth focusing on:
the brand of the stroller,
seller's warranty,
trolley mileage - in the case of renting or purchasing a used trolley,
general technical condition,
important UDT tests.