What is a goods and passenger crane?
Freight and passenger crane deals with lifting and stopping at certain levels. It works like all the lifts we are familiar with. Without it, moving and lifting workers as well as materials would be incredibly difficult. In order to be able to operate this device, it is necessary to pass the UDT exam and obtain a licence.
Come to ERGON, with us you can easily do the course and become a crane operator!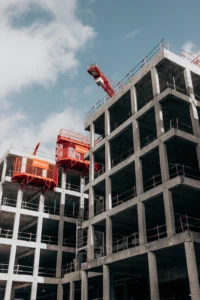 Wondering what our course is like?
Above all, we care about the quality of the teaching and the satisfaction of the students. We believe that both theory and practice are equally important, which is why we focus equally on both areas. We use didactic methods that activate students and encourage them to actively participate in lessons. Our specialists will prepare students for their exams and equip them with the skills they need in the workplace.
And what will you learn on the courses?
After our course, you will possess the professional knowledge necessary to work as an operator. You will become familiar with the following topics:
Basic parameters of the cranes,
The main assemblies of the freight and passenger crane,
Duties and responsibilities of the lift attendant,
Safety rules for the operation of goods and passenger cranes.
Do you want to know what documents you will receive after the course and passing the exam?
After completing the course, you will receive a certificate of qualification and a certificate of training (course completion).
How long does our course last?
Collaboration is important to us, so we always take an individual approach and adapt to the client. The length of the course depends on your skills.
Where do we run our courses?
We are in almost all parts of Poland! That is why our courses are so accessible. We are in cities such as:
Warsaw,
Kraków,
Katowice,
Łódź,
Wrocław,
Poznań,
Gdansk,
Gdynia,
Szczecin,
Bydgoszcz,
Lublin,
Bielsko-Biała.
And that's not all! In the event of a training need involving an organised group, we will also travel to you by prior arrangement and conduct a closed course. In addition, we have the possibility to conduct the theoretical part of the course online!
Why enrol on a course for goods and passenger lifts (goods and passenger lifts) at ERGON?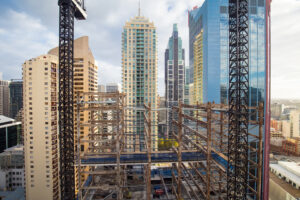 Only experienced and qualified instructors with the right qualifications and UDT qualifications. We are always up to date with industry knowledge, especially when it comes to regulations related to the UDT and Health and Safety storage equipment such as forklifts, platforms, cranes, hoists, cranes or goods and passenger lifts. The instructors share their experience and prepare you solidly for the UDT exam and professional work. After our course, finding a job will not be a problem if you consider the demand for goods and passenger crane operators. It is worth investing yourself and in additional qualifications. We want to develop together with you!
Is the UDT exam for goods and passenger cranes compulsory?
To answer as simply as possible - YES! Cranes may only be operated by persons with current qualifications obtained by successfully completing a state examination.
Remember that in order to operate a personnel lift otherwise known as a goods lift, you need a valid state licence, issued by the UDT. Without a licence, even if you have the skills, you must not operate them! Every goods and passenger lift should have an up-to-date UDT inspection and have its number issued by the UDT and a corresponding sticker.
| | |
| --- | --- |
| Course name: | Freight and passenger lift course at ERGON! |
| Where we run the course: | All over Poland! |
| Pricing: | You can find detailed information on the ERGON centre website. |