Overhead crane course - get certified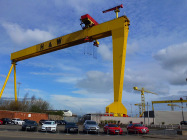 In order to operate overhead cranes, which are cranes commonly used in transport and various industries, the following are required
crane course
. On completion of the course and successful completion of the examination, the course participant will receive a
entitlements
for cranes in accordance with the regulations of the Technical Inspection Authority, to which the equipment is subject.
Background information
Overhead cranes are devices classified as cranes that operate in intermittent motion. They are equipped with lowering or lifting mechanisms - either hoists or winches. Overhead cranes are primarily designed to move goods horizontally and vertically. The area of operation of the device is limited by the height of the lowering and lifting of the goods, the length of the device's travel path and the width of its bridge. The equipment can be operated by wire or wireless control. Larger models are operated by an operator sitting in a cab.
Equipment designs
overhead travelling cranes - mainly installed in industrial halls. They are equipped with a hoist that moves along a bridge. The bridge models are installed in the upper part of the hall and consist of a trussed platform that moves on rails
Suspended cranes - similar in design to track-mounted cranes, which run on runways suspended from the hall roof structure. They are suitable for indoor applications where maximum use must be made of the available space.
Gantry cranes - this is a model often used outdoors, for example on storage yards or shipyard slipways. These units are constructed with platforms suspended from lateral bridges that tie gates together. The gantries have rail or wheeled undercarriages
Application
As mentioned, the devices are primarily used for transport, for example in production halls, shipyards, trans-shipment points or warehouses. Thanks to their design, they enable different types of loads to be handled quickly and safely, depending on the gripping elements used.
Entitlements
To operate overhead cranes, which are controlled from the working level, also wirelessly, as well as equipment operated from a cabin, you need an overhead crane licence. The licence is granted after completing a course and passing a state examination before a commission from the Office of Technical Inspection. The licence is granted for an unlimited period of time and entitles the holder to operate equipment of the type indicated on the licence.
Permission categories
II S - the entitlement to operate equipment controlled from the working level, as well as hoists and winches in category II W and workshop stationary cranes
I S - authorisation to operate cabin-operated machines as well as hoists and winches according to category I W and category II S machines
Overhead cranes are equipment that are commonly used in various workplaces. To operate them correctly, it is essential to have the right course and entitlements. During the course, participants are provided with the most important information related to the operation of the equipment, including messages related to health and safety rules before, during and after work, in order to transport all loads correctly.
Niezależnie od rodzaju suwnic operator musi posiadać odpowiednie uprawnienia. Bez nich naraża zarówno siebie, jak i pozostałych pracowników na zagrożenia. Zadaniem pracodawcy jest zapewnienie swoim podwładnym odpowiedniego przeszkolenia oraz warunków pracy zgodnych z aktualnymi przepisami Health and Safety.