Forklift trucks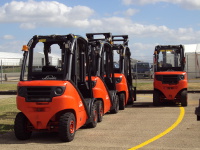 Zapraszamy na kurs na
forklift trucks
do Ośrodka Szkolenia Kadr ERGON! Uczestnicy naszych szkoleń zawsze kompleksowo poznają wózki jezdniowe podnośnikowe – uprawnienia z nami są w związku z tym bardzo łatwe do uzyskania. Wszystkie nasze kursy na wózki jezdniowe podnośnikowe bazują na doświadczeniu naszych wykwalifikowanych wykładowców i instruktorów oraz na najnowszych przepisach prawnych. Kursy są prowadzone na wszystkich poziomach, dlatego można dzięki nim uzyskać uprawnienia I, II, III WJO do obsługi każdego typu urządzeń.
Szkolenie na wózki jezdniowe podnośnikowe w ERGON Center jest podzielone na część teoretyczną i praktyczną. Podczas części teoretycznej poruszane są informacje związane z budową i zasadami funkcjonowania urządzeń oraz bezpiecznym operowaniem nimi zgodnie z przepisami BHP oraz UDT. W części praktycznej uczestnicy uczą się manewrowania urządzeniem i wykonywania różnych prac. Po zakończeniu szkolenia można podejść do egzaminu Urzędu Dozoru Technicznego i otrzymać uprawnienia. Dzięki temu, że nasze szkolenia zawsze są prowadzone kompleksowo i z naciskiem na efekty, otrzymanie uprawnień jest znacznie ułatwione!
Application
Wózki jezdniowe podnośnikowe czy też inaczej forklifts są urządzeniami transportu bliskiego, które mają wszechstronne zastosowanie. Są one używane do transportu towarów głównie na paletach drewnianych w magazynach, halach produkcyjnych, sklepach czy portach.
Podział wózków jest zgodny z kategoriami UDT qualifications. W ich ramach wyróżniamy urządzenia o różnych typach napędów, w tym: z napędem elektrycznym, akumulatorowym, benzynowym i silnikiem diesla. Pod kątem eksploatacji wyróżniamy wózki jezdniowe podnośnikowe, unoszące, ciągnikowe, naładowne oraz specjalne. Pod względem sposobu kierowania urządzenia dzieli się na prowadzone, podestowe, zdalnie sterowane i wyposażone w fotel.
Types of permissions
UDT wyróżnia 3 kategorie uprawnień niezbędnych do obsługi tych urządzeń:
Kategoria I WJO:
– wózki jezdniowe podnośnikowe
– wózki jezdniowe podnośnikowe specjalizowane – z operatorem podnoszonym z załadunkiem oraz ze zmiennym wysięgiem
Kategoria II WJO:
– wózki jezdniowe podnośnikowe za wyjątkiem specjalizowanych
Kategoria III WJO:
– wózki jezdniowe podnośnikowe prowadzone oraz zdalnie sterowane
Purpose of the training
Szkolenia w naszej ofercie są przeznaczone dla tych osób, które ukończyły 18 rok życia, nie mają przeciwwskazań lekarskich do wykonywania zawodu operatora oraz mają ukończoną co najmniej szkołę podstawową.
Aktualnie w wielu zakładach pracy poszukiwani są pracownicy, którzy mają uprawnienia na wózki jezdniowe podnośnikowe. Szkolenia prowadzone w naszym Ośrodku będą w związku z tym bardzo dobrą inwestycją, która pomoże w znalezieniu zatrudnienia. Szkolenia organizujemy również dla grup pracowników skierowanych przez pracodawcę. Możemy zrealizować je w dogodnym czasie i miejscu.
We invite you to take advantage of the offer!