Use of mobile platforms on construction sites
The use of mobile platforms
Podesty ruchome są maszynami, które zastosowanie znajdują przy pracach magazynowych, instalacyjnych czy też budowlanych. Podnośniki stosowane na budowach zbudowane są z platformy roboczej, wysięgnika i podwozia. Wykorzystywanie podnośników nie wymaga specjalnego przygotowania terenu i może spełniać wiele funkcji.
Na terenach budowy, odpowiadają za sprawne i bezpieczne przenoszenie materiałów oraz pracowników na stanowiska robocze. W tym, na znaczne wysokości, co bez ich użycia byłoby znaczniej trudniejsze, ponieważ zastępują one tradycyjne rusztowania, których wznoszenie wymaga więcej wkładu czasowego. Używanie podnośników pomaga zaoszczędzić czas i pieniądze.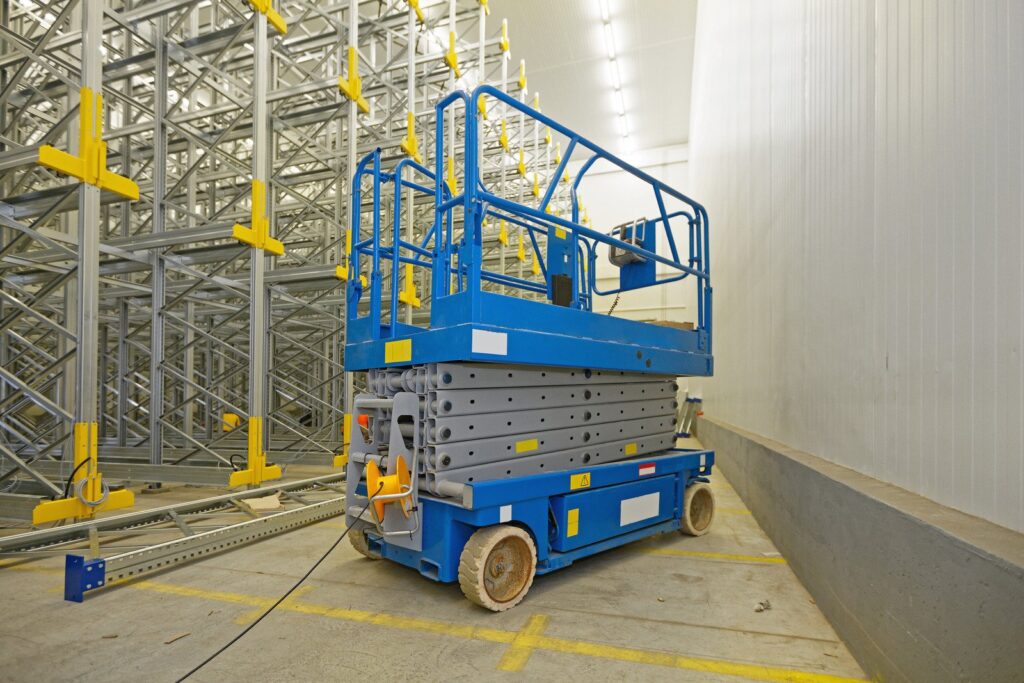 Uprawnienia do obsługi podestów ruchomych
Do pracy z podestami ruchomymi potrzebne są odpowiednie kwalifikacje i uprawnienia od UDT, które możemy zdobyć poprzez szkolenia dla operatorów podestów ruchomych, zakończone egzaminem przed komisją UDT.
Uprawnienia dzielą się ze względu na rodzaj urządzenia:
| | |
| --- | --- |
| Rodzaj podestu ruchomego: | Okres ważności uprawnień: |
| stacjonarny | 10 lat; |
| przejezdne | 5 lat; |
| hanging | 10 lat; |
| masthead | 10 lat; |
| na pojazdach kolejowych | 10 lat. |
Rodzaje podestów ruchomych
Podesty ruchome ze względu na ich budowę dzielimy na: wiszące, masztowe, telekopowe, nożycowe, przegubowe, załadowcze i teleskopowo-przegubowe.
Do najpopularniejszych należą m.in. suspended access platforms umieszczone na linach nośnych. Montowane są na określony czas. Składają się z platformy, lin, wciągarki i konstrukcji nośnej. Na budowach służą np. do konserwacji obiektów.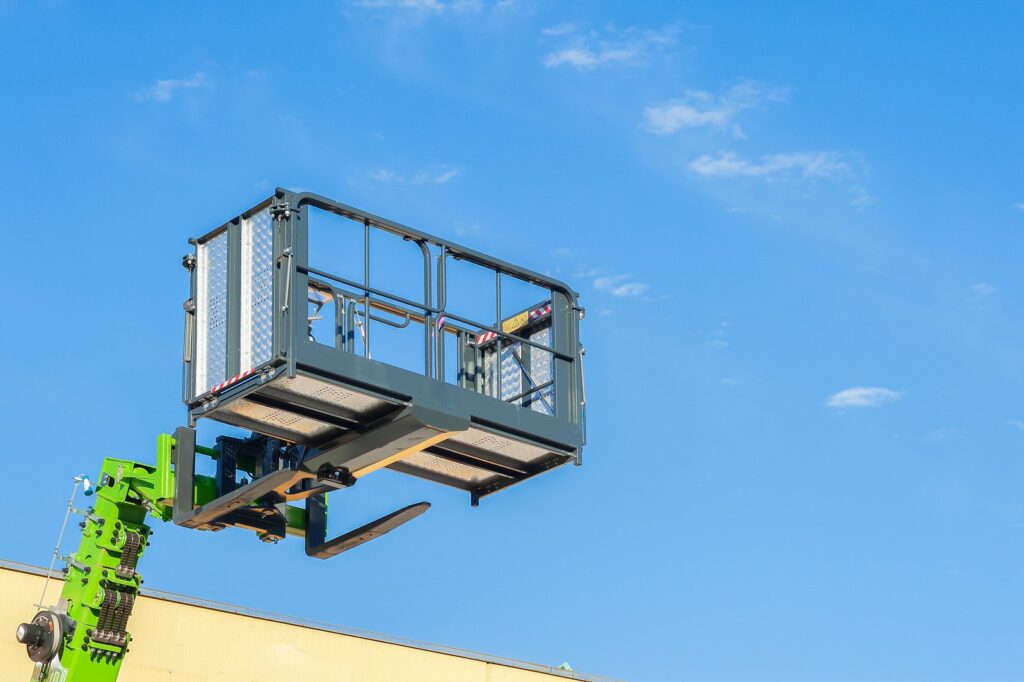 Mobile mobile platforms dzielą się na:
wolnobieżne – mają własny napęd na 2 lub 4 koła i podwozie kołowe lub gąsienicowe. Zasilane są spalinowo lub elektrycznie;
samojezdne – są zamontowane na podwoziu auta i mogą poruszać się po drogach;
przewoźne – są montowane na przyczepie i mogą poruszać się po drogach jako przyczepy specjalne.
Podesty masztowe zbudowane są z platformy, masztu (mogą być jedno lub dwumasztowe), podwozia (w postaci wózka do holowania) i mechanizmu napędowego. Maszt często zbudowany jest z kratownicowej konstrukcji. 
PODNOŚNIKI KOSZOWE 
Jednak, pomimo wielu rodzajów podestów, w branży budowlanej najczęściej wykorzystywanymi podnośnikami są podnośniki koszowe, które zamontowane są na pojazdach. Dzięki temu, mamy zapewnioną stabilność i bezpieczeństwo.
Podnośniki koszowe zbudowane są z ramienia teleskopowego, które znajduje się na podwoziu samochodu i kosza umieszczonego na końcu tego ramienia.
Podesty te są najpopularniejszym modelem podestów ruchomych w branży budowlanej, ponieważ wyróżniają się uniwersalnością i wszechstronnymi zastosowaniami – zarówno wewnątrz, jak i na zewnątrz. Urządzenia gwarantują maksymalny komfort użytkowania i bezpieczeństwo w pracy na wysokościach.
Podnośniki koszowe możemy podzielić na dwa rodzaje – przegubowe i teleskopowe. Dzięki możliwości wyboru rodzaju podnośnika, mamy możliwość dobrego dopasowania cech i parametrów technicznych do rodzaju przepracowanych prac budowlanych.
Podnośniki koszowe teleskopowe występują w formie jedno, dwu lub wieloczłonowej. Człony w podnośnikach wsuwają się jeden w drugi i wysuwają. Ten rodzaj podnośników wymaga ustawienia urządzenia w miejscu pracy.
Natomiast podnośniki koszowe przegubowe to maszyny posiadające duży zasięg roboczy, co pozwala na wykonywanie manewrów w szerokim zakresie. Posiadają również możliwość dotarcia do miejsc, do których dostęp jest utrudniony – ten typ podnośnika nie musi być ustawiony w miejscu pracy.
PODNOŚNIKI NOŻYCOWE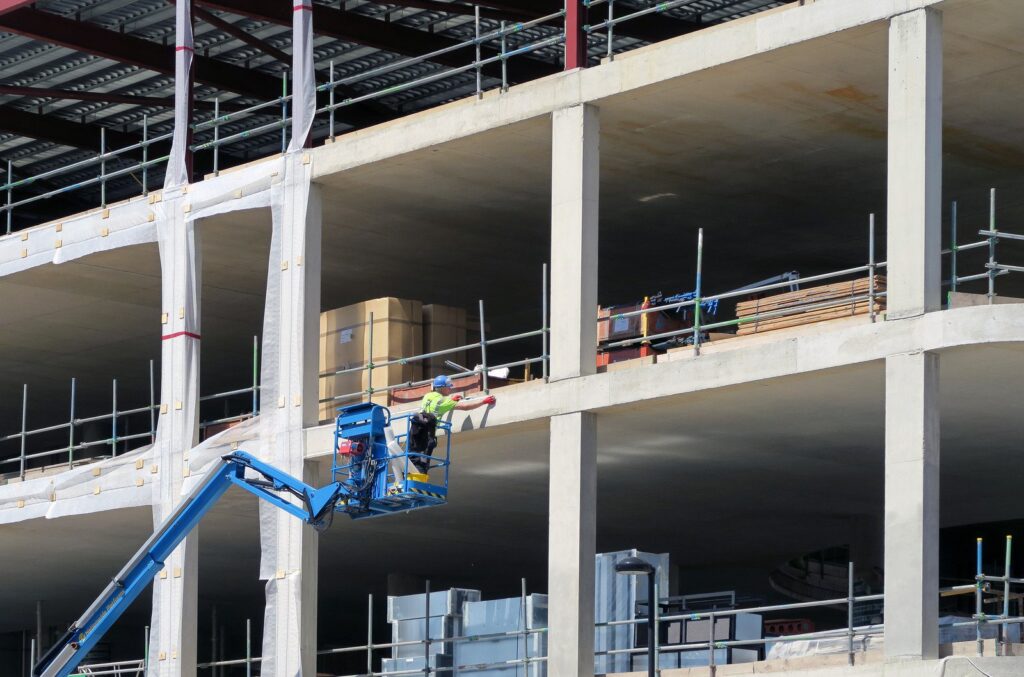 Te, charakteryzują się w swojej konstrukcji krzyżującymi się ramionami i, posiadającą barierki ochronne, platformą unoszoną tylko w pionie. Na terenach budowy wykorzystywane są najczęściej do prac wykończeniowych, tj. malowanie obiektów, konserwacja budowli czy montaż drobnych elementów.
Wady i zalety podestów ruchomych
Stosowanie podnośników jest bardzo dobrą i wygodną opcją na budowach. Niezależnie od miejsca pracy, można je stosować zarówno w pomieszczeniach zamkniętych, jak i w przestrzeniach otwartych, gdzie występują trudne warunki – niestabilne lub/i nierówne podłoże.
Jedną z większych wad podnośników jest ich wysoka cena zakupu, co jest często nieopłacalną inwestycją dla mniejszych firm. Alternatywą jest wynajem podnośników – krótkoterminowy lub długoterminowy.
Questions and answers
Co obejmuje szkolenie dla operatorów podestów ruchomych?

Kurs na operatora podestu ruchomego obejmuje zazwyczaj naukę teorii oraz zajęcia praktyczne. Program szkolenia obejmuje m.in. BHP, obowiązki operatora, budowę podestu oraz postępowanie w przypadku awarii. Aby otrzymać uprawnienia na obsługę, niezbędne jest zaliczenie egzaminu UDT.
Który podnośnik największy zasięg roboczy?

Podnośnik koszowy przegubowy posiada większy zasięg roboczy. Spowodowane jest to m.in. możliwością transportu w szerokim zakresie – w poziomie i pionie. Często pozwalają na pracę w miejscach trudnodostępnych.
Jakie zastosowanie mają podesty ruchome?

Podesty ruchome są często wykorzystywane na placach budowy. Służą do przenoszenia ładunków oraz osób na duże wysokości przy m.in. malowaniu obiektów, montażu konstrukcji czy konserwacji.