Principles of first aid
Dlaczego pierwsza pomoc jest tak ważna?
Umiejętność udzielania pierwszej pomocy jest niezwykle ważna. Nigdy nie wiemy, kiedy może nam się przydać, a udzielona w poprawny sposób może uratować komuś życie. Najważniejsze jest, aby robić to poprawnie, ponieważ źle udzielona pierwsza pomoc może wprowadzić w jeszcze większe zagrożenie życia niż było to na początku. Spokój, opanowanie i głowa na karku, to się liczy.
Czym jest pierwsza pomoc?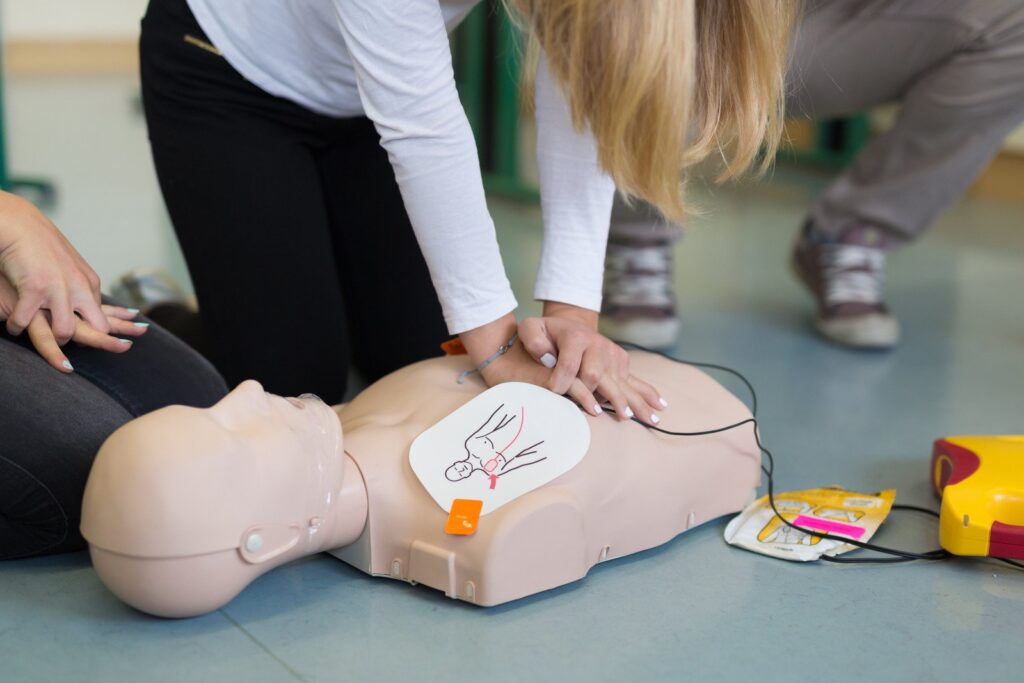 To odpowiednie czynności wykonywane w razie wypadku, urazu lub nagłego ataku choroby w celu ochrony życia lub zdrowia poszkodowanego. Pomaga również w zminimalizowaniu niekorzystnych następstw, zanim udzielenie specjalistycznej pomocy medycznej dojdzie do skutku.
Rozróżnia się 3 rodzaje pierwszej pomocy:
Pierwsza pomoc, czyli czynności wykonywane przez osoby znajdujące się na miejscu zdarzenia;
Kwalifikowaną pierwszą pomoc, czyli czynności wykonywane przez zespół ratowników, którzy mają odpowiedni sprzęt;
Medyczne czynności ratunkowe, czynności wykonywane przez lekarza, ratownika medycznego lub pielęgniarkę.
Czym jest łańcuch ratunkowy?
To zespół czynności ratowniczych, które dają większą szansę na przeżycie osoby poszkodowanej.
Prewencja – nauczanie zasad pierwszej pomocy, zarówno na poziomie teoretycznym, jak i praktycznym;
Wczesne rozpoznanie i wezwanie pomocy – to bardzo ważny krok, który zwiększa szansę na przeżycie i wyzdrowienie poszkodowanego;
Wczesne rozpoczęcie RKO (resuscytacji krążeniowo–oddechowej) – należy zacząć bezzwłocznie, jeśli widzimy brak oddechu u poszkodowanego;
Wczesna defibrylacja – urządzenia do defibrylacji znajdują się np na stacjach metra;
Opieka poresuscytacyjna – szereg czynności wykonywanych już w szpitalu, pomagają przywrócić poszkodowanego do zdrowia i szybkiego powrotu do normalnego życia i sprawności.
Prawidłowy przebieg łańcucha ratunkowego pozwala na płynne przejścia z jednej czynności do drugiej, dzięki czemu zmniejsza się zagrożenie życia. To bardzo ważne przy pierwszej pomocy.
Zakres pierwszej pomocy – co dokładnie obejmuje pierwsza pomoc?
Co robić, żeby można było mówić o pierwszej pomocy? Są to bardzo proste czynności, które jest w stanie wykonać każdy. Wystarczy mieć minimalną wiedzę w tym zakresie, aby przyczynić się do uratowania komuś życia. Bardzo często od naszego zachowania względem poszkodowanego zależy jego życie i zdrowie.
Zabezpieczenie miejsca zdarzenia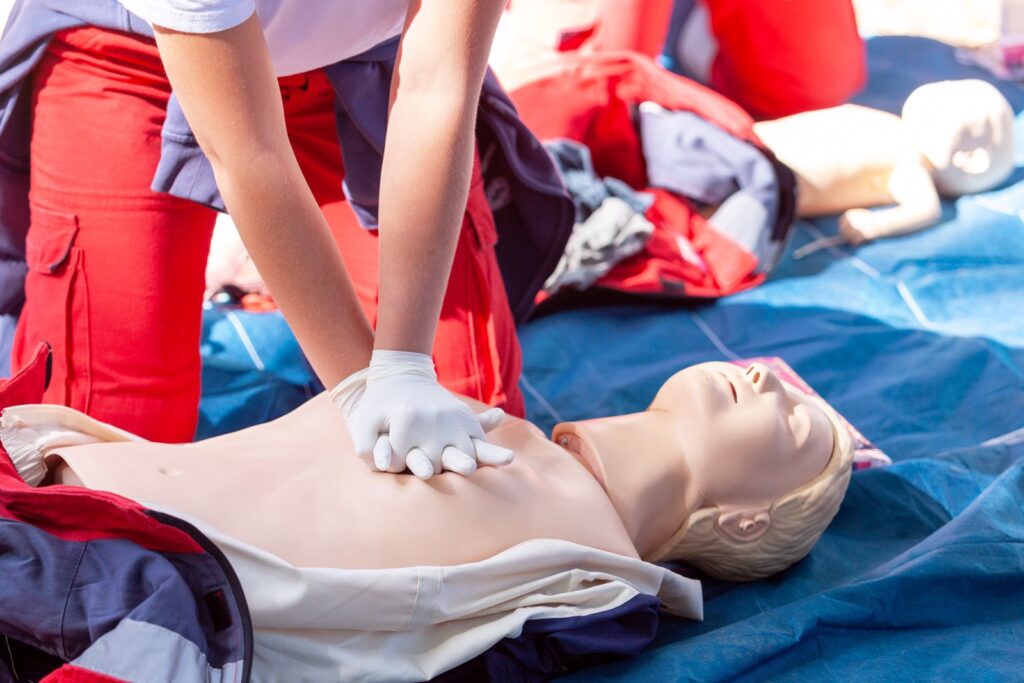 Takie działanie ma na celu ochronę nie tylko poszkodowanego, ale również nas samych, przechodniów i ratowników, którzy wkrótce przyjadą. Może to być zatrzymanie ruchu drogowego (ustawienie trójkąta ostrzegawczego), usunięcie twardych przedmiotów, aby ograniczyć urazy, a nawet ewakuacja osób znajdujących się w okolicy zagrożenia. To, jakie działania podejmiemy, zależy od sytuacji, w jakiej znalazł się poszkodowany i rodzaju zagrożenia. Musimy dobrze wypadać sytuacje i zachować się odpowiednio w razie pożaru, wypadku czy zasłabnięcia.
Sprawdzenie stanu poszkodowanego, podstawowych funkcji życiowych, sprawdzenie czy oddycha i czy jest świadomy co się dzieje, zlokalizowanie miejsca urazu.
Jeśli poszkodowany jest przytomny, wtedy można przeprowadzić z nim wywiad, zapytać czy wszystko w porządku, czy nas słyszy. W sytuacji, gdy nie widzimy reakcji na pytania, można delikatnie potrząsnąć poszkodowanego za ramię, jeśli dalej nie widzimy reakcji to znak, że mamy do czynienia z osobą nieprzytomną. Najważniejsze jest sprawdzenie czy poszkodowany oddycha, ponieważ od tej informacji zależą nasze następne kroki. Można to sprawdzić na kilka sposobów, ale najbardziej powszechne jest przyłożenie policzka do ust poszkodowanego i obserwowanie czy klatka piersiowa unosi się.
Zapewnienie pomocy – wezwanie pogotowia ratunkowego
Najczęściej wzywa się pogotowie ratunkowe (numer 999), ale w zależności od sytuacji również straż pożarną (numer 998) albo policję (numer 997). W takich chwilach bardzo często zapomina się, który z numerów jest właściwy, dlatego istnieje ogólny numer alarmowy – 112, wtedy mamy pewność, że odpowiednia służba jest powiadomiona. Przy zgłaszaniu sytuacji, która się wydarzyła należy pamiętać, żeby powiadomić o tym, gdzie się znajdujemy, co się stało, ile jest rannych i jak się czują oraz nasze imię i nazwisko i numer kontaktowy. Bardzo ważne jest, żeby wybrać konkretną osobę do tego zadania.
Czynności ratujące życie i zdrowie do momentu przyjechania pogotowania – zatamowanie krwawienia, resuscytacja, zadbanie o poszkodowanego.
W tych sytuacjach musimy zachować wszelkie środki ostrożności dla własnego zdrowia i bezpieczeństwa. Rękawiczki ochronne czy zwykła reklamówka, w którą będziemy mogli owinąć ręce, uchroni nas przed ewentualnym zakażeniem. Oczywiście po udzieleniu pomocy, należy bezzwłocznie umyć ręce, aby nie roznosić zarazków w inne miejsca.
Ułożenie poszkodowanego w pozycji bezpiecznej, ale tylko wtedy jeśli jest nieprzytomny.
Pozycja bezpieczna powinna być stabilna tak, aby nie uciskała na klatkę piersiową i umożliwiała swobodne oddychanie.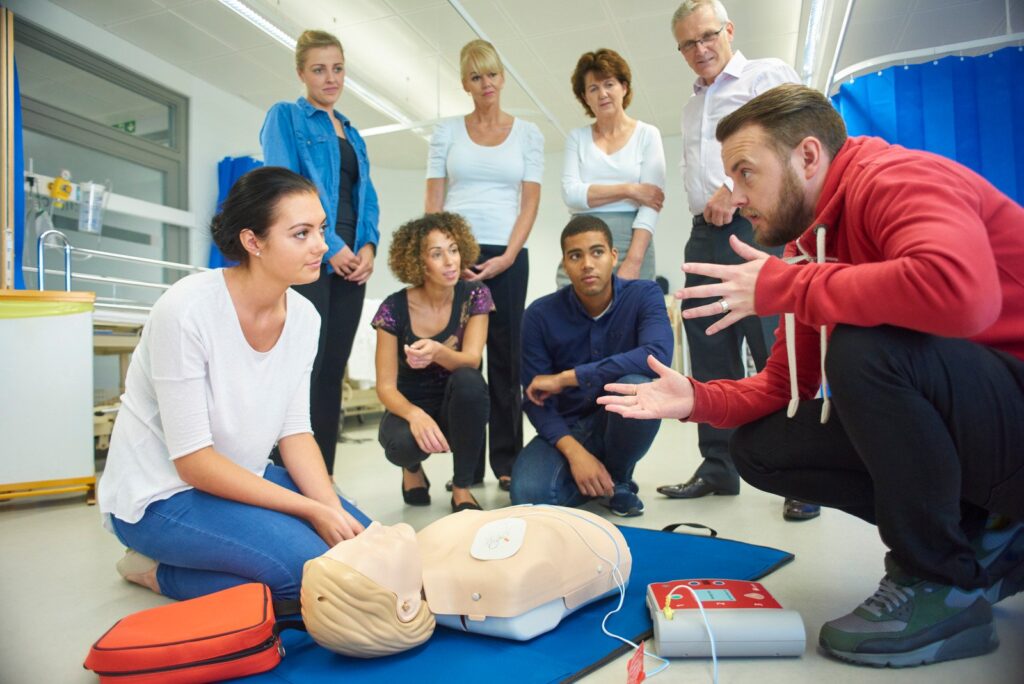 Jak i gdzie nauczyć się udzielać pierwszej pomocy?
Pierwszą styczność z udzielaniem pierwszej pomocy mamy już w szkole. Na zajęciach z edukacji dla bezpieczeństwa uczymy się, jak się zachować i jakie kroki podjąć, jeśli widzimy osobę, która potrzebuje pomocy. Dodatkowo, istnieje wiele kursów z pierwszej pomocy, na które możemy się zapisać. Oprócz kwestii prawnych i informacji o numerach ratunkowych, możemy dowiedzieć się jak w bezpieczny sposób ewakuować ludzi i jak postępować w sytuacji zagrożenia życia.
Część teoretyczna to zawsze tylko jedna strona medalu, dlatego na kursach z pierwszej pomocy mamy również cześć praktyczną. Przy pomocy manekina możemy nauczyć się, jak ułożyć poszkodowanego w pozycji bezpiecznej, jak umożliwić mu swobodne oddychanie i resuscytację.
Pamiętajmy o tym, że nasze umiejętności mogą uratować komuś życie, nawet w sytuacji, w której się tego najmniej spodziewamy.