High reach forklift course - get your UDT licence
Wózki widłowe wysokiego składowania – operator
Ośrodek szkoleniowy ERGON oferuje szkolenia dla operatorów urządzeń UDT. Wózki widłowe są pod dozorem technicznym, co oznacza, że operatorzy i konserwatorzy muszą posiadać uprawnienia do pracy z tym urządzeniem. W zależności od wykonywanej pracy i ładunków jakie się transportuje wykorzystuje się różne typy wózków.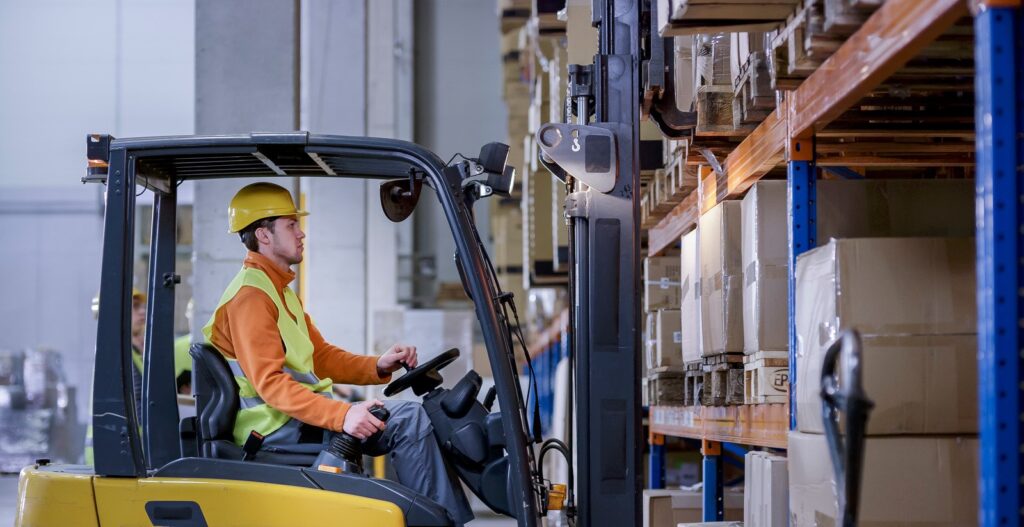 Training programme
Podczas trwania kursu dowiesz się m.in. o:
konstrukcji i funkcji wózka widłowego,
prawidłowej eksploatacji maszyny,
zasadach BHP jakie trzeba przestrzegać,
obsłudze wózków,
przepisach dotyczących dozoru technicznego,
obowiązkach operatora i konserwatora.
Jakie są rodzaje wózków widłowych?
Wyróżnić możemy dwie główne grupy wózków, które dzielą się na zastosowany w nich napęd lub też funkcje.
Do grupy podzielonej na napęd zalicza się:
wózki widłowe elektryczne – napędzane są przez akumulator, ich zastosowanie odnajduje się w miejscach, gdzie ze względów na emisje spalin, trzeba użyć właśnie wózka elektrycznego;
wózki widłowe spalinowe – napędzane są benzyną, gazem LPG, olejem napędowym. Charakteryzuje je to, że emitują spaliny i użytkowanie ich powinno odbywać się na otwartych przestrzeniach. Oczywiście istnieje możliwość wykorzystania ich w magazynach lub innych zamkniętych pomieszczeniach, pod warunkiem zastosowania w nich specjalnego filtru.
Do grupy podzielonej na funkcje zalicza się: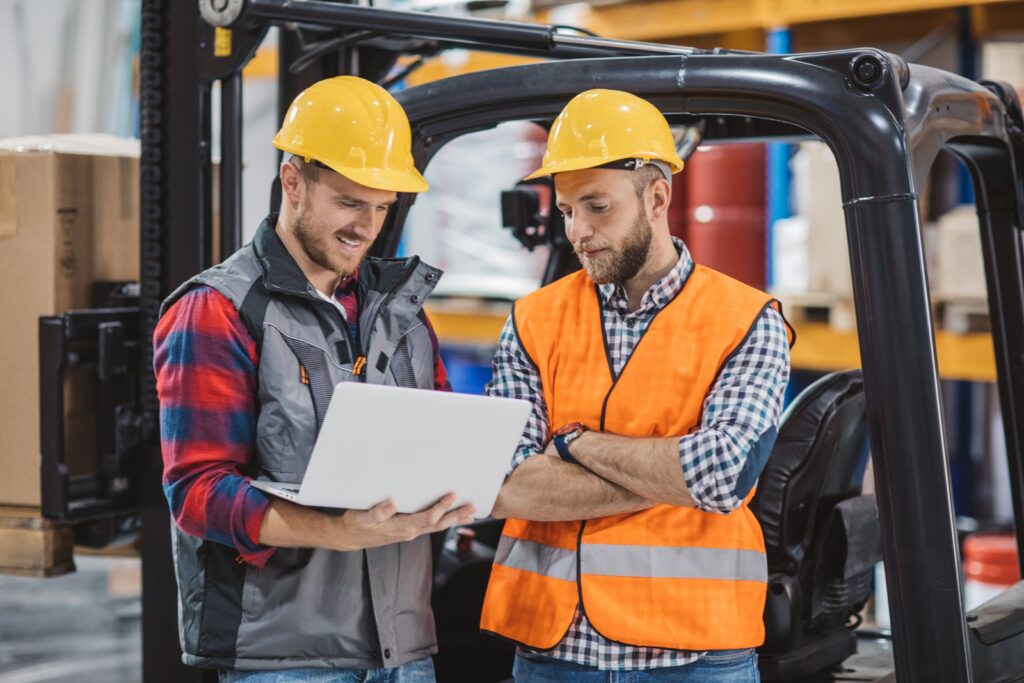 wózki widłowe terenowe – z nich korzystamy w miejscach, gdzie podłoże jest nierówne;
wózki widłowe ze zmiennym wysięgnikiem – nazywane także ładowarkami teleskopowymi. Posiadają charakterystyczny długi wysięgnik, który pozwala im na daleki zasięg wykonywanej pracy;
wózki widłowe boczne – nazywane potocznie wózkami bocznego załadunku. Ich konstrukcja wyróżnia je od innych tym, że operator tej maszyny jest usadowiony bokiem do kierunku poruszania się;
wózki widłowe podnośnikowe sterowane z poziomu lub podestu bocznego – charakteryzuje je to, że operator wykonuje swoją pracę chodząc przy wózku lub pracując na podeście;
wózki widłowe z wysuwanym masztem – cechują się tym, że zamiast klasycznych wideł posiadają wysuwany maszt, którym mogą przenosić ładunki np.: palety.
Wymagania dla kursantów
Aby rozpocząć szkolenie należy spełniać poniższe wymagania:
ukończony 18 rok życia,
posiadać brak przeciwwskazań od lekarza,
mieć wykształcenie na poziomie przynajmniej podstawowym.
Jeśli spełniasz te wymagania możesz śmiało rozpocząć kurs na wózki widłowe. Szkolenia przeprowadzane są przez wysoko wykwalikowaną kadrę, która pomoże uzyskać niezbędną wiedzę i umiejętności do pracy z wózkami.
Gdzie są wykorzystywane wózki widłowe?
Wózki jezdniowe podnośnikowe potocznie nazywane są wózkami widłowymi. Zastosowanie odnalazły w pracy na magazynach, centrach logistycznych, składach budowlanych oraz w portach. Wykorzystywane są do przewożenia zazwyczaj palet i skrzyń, więc od kierowcy wymaga się umiejętności prowadzenia tego urządzenia oraz umiejętnego operowania przewożonym ładunkiem.
Jak uzyskać potrzebne uprawnienia?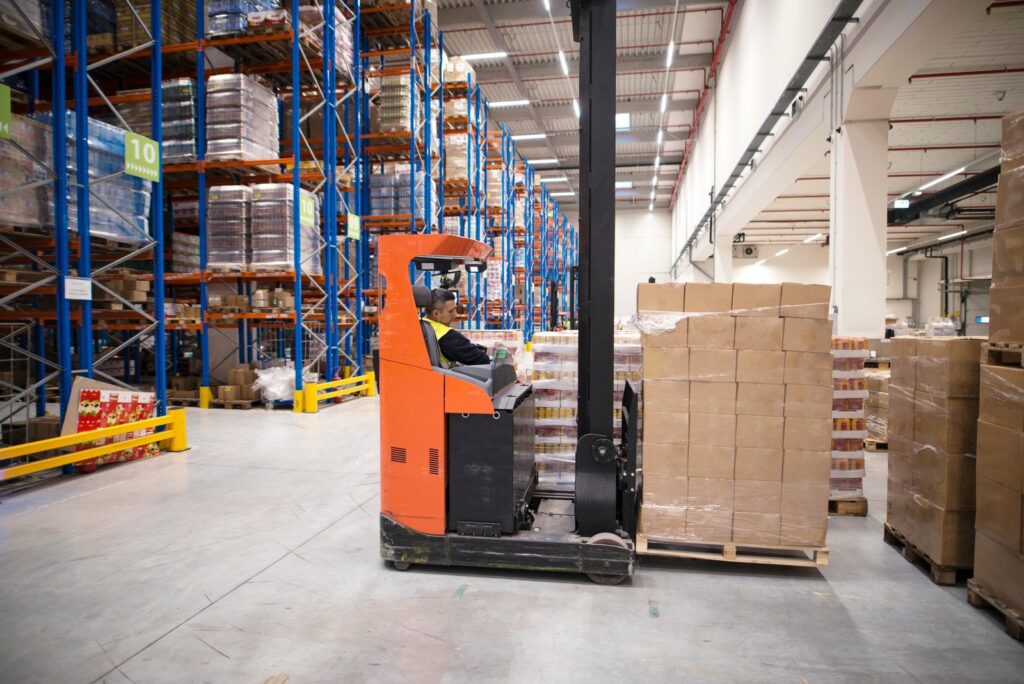 Pierwsze co musimy zrobić to zapisać się na kurs, który przygotowuje z zakresu wiedzy teoretycznej, jak i praktycznej do egzaminu państwowego. Jeśli zakończymy kurs, to musimy przystąpić do egzaminu UDT. Składa się on z testu pisemnego, a po jego zaliczeniu nastąpi czas na test ukazujący nasze umiejętności pracy z wózkiem. Podczas egzaminu praktycznego będziemy musieli wykonać zadanie zlecone przez komisję UDT, w celu potwierdzenia naszych umiejętności dotyczących pracy z tym urządzeniem. Następnie po zaliczeniu obu tych testów, otrzymamy uprawnienia do pracy z wózkami. Uprawnienia ważne są przez okres od 5 lub 10 lat, zależnie od typu urządzenia na jakie wykonano uprawnienia, czyli osoby pracujące z wózkiem podnośnikowym specjalizowanym ważne kwalifikacje będą mieli przez okres 5 lat. Okres ten wydłuża się do 10 lat, jeśli chodzi o wózki podnośnikowe, z wyłączeniem specjalizowanych i wózków podnośnikowych prowadzonych, a także tych zdalnie sterowanych.
Our other training courses
Prowadzimy kursy również na inne urządzenia techniczne takie jak:
telescopic handlers,
cranes,
cranes,
mobile platforms,
wciągniki i wciągarki.
Jeśli zainteresowała Cię jedna z naszych ofert szkoleniowych, to zapraszamy do kontaktu.
Questions and answers
Jakie wyróżniamy rodzaje wózków widłowych ze względu na napęd?

Wyróżniamy głównie dwa rodzaje wózków widłowych ze względu na napęd, mianowicie są to wózki widłowe spalinowe oraz elektryczne.
Gdzie korzysta się z wózków widłowych?

Z usług wózka widłowego korzysta się najczęściej w magazynach, centrach logistycznych, składach budowlanych czy w portach.