Telescopic loaders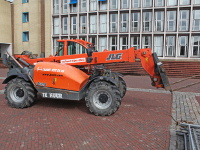 W pracach transportowych powszechnie stosuje się wózki widłowe oraz ładowarki. Dzięki nim można wykonywać pracochłonne operacje, oszczędzając czas, a przy tym również z naciskiem na wysokim poziom bezpieczeństwa.
Application of devices
Ładowarki teleskopowe to jedne z powszechnie wykorzystywanych maszyn w robotach budowlanych, w tym w robotach ziemnych, które również sprawdzają się w innych branżach, między innymi rolniczej, w magazynach czy też w pracach transportu bliskiego różnego rodzaju zarówno w pionie, jak i w poziomie. To wózek widłowy specjalizowany, który do obsługi wymaga odpowiedniej wiedzy poświadczonej uprawnieniami operatora.
Poprawnie operowana ładowarka teleskopowa jest w stanie przenosić między innymi ziemię lub kruszywa przy pracach ziemnych, na przykład przy niwelacji gruntów. W rolnictwie dzięki nim można transportować słomę, obornik czy drewno. Także urządzenia znajdują zastosowanie przy załadunku i przeładunku palet, skrzyniopalet, big-bagów w magazynach i stacjach przeładunkowych.
Niektóre ładowarki posiadają jako osprzęt specjalne kosze dla ludzi, dlatego mogą pełnić wtedy funkcje podnośników. Pełna gama osprzętu powoduje, że są to wszechstronne i często wykorzystywane urządzenia, co z kolei również wywołuje wysokie zapotrzebowanie na pracowników posiadających entitlements do ich obsługi.
Construction
Ładowarka teleskopowa czy ładowarka ze zmiennym wysięgiem, ponieważ stosuje się również takie określenie, różni się od zwykłego wózka widłowego. Przede wszystkim jest wyposażona w silnik o znacznie większej mocy, co powoduje, że może wykonywać także trudniejsze zadania. Jej niewielkie wymiary są również dużym atutem, ponieważ sprawdza się ona przy realizacji prac na małych powierzchniach. Urządzenie posiada cztery koła o napędzie stałym, jest w stanie pracować niemalże na każdego rodzaju nawierzchni, także na nawierzchniach trudnych jak błoto, piasek. Ładowarki posiadają przestronne kabiny zabezpieczające operatora oraz stabilizatory.
Urządzenia dzielone są powszechnie na dwa typy:
sztywne, czołowe, panoramiki – są to ładowarki, które posiadają sztywno umieszczoną kabinę operatora. Wysięgniki prowadzone są w tych modelach od prawej strony pojazdu. Urządzenia mogą być wyposażone w podpory boczne. Zwykle ich udźwig wynosi od 1,5 do 20 ton, natomiast wysięg do 20 metrów
obrotowe, roto – modele z głowicą obrotową, która także pozwala na zmianę pozycji kabiny operatora z wysięgnikiem o 360 stopni na platformie maszyny. Przeważnie ich udźwig wynosi od 3 do 5 ton, natomiast wysięg do 30 metrów
Wśród najpopularniejszych producentów ładowarek teleskopowych znajdują się takie firmy jak: New Holland, Manitou, Case, Dieci, JCB czy Merlo. W ich ofercie można znaleźć pełną gamę nowoczesnych urządzeń kompleksowo wspomagających prace budowlane i innego rodzaju. Cena sprzętu dochodzi nieraz do kilkuset tysięcy złotych zależnie od producenta, wielkości, zastosowanego osprzętu.
Kursy na ładowarki teleskopowe
Aby pracować jako operator urządzenia, potrzebne są do tego uprawnienia. Są one nadawane po przejściu szkolenia oraz zdaniu egzaminu UDT. Wybierając kurs na ładowarki teleskopowe, uczestnik otrzymuje przekrojowe informacje dotyczące bezpiecznej eksploatacji urządzenia na stanowisku operatora. Uczy on między innymi tego, jak prawidłowo prowadzić wózek, jak umieszczać na nim ładunki, jak przestrzegać przepisów dozoru technicznego oraz BHP.
W ODK ERGON oferujemy Państwu profesjonalne szkolenie, które jest podstawa do uzyskania uprawnień I WJO na wózek specjalizowany, czyli między innymi na ładowarkę teleskopową. Jako firma z wieloletnim doświadczeniem edukacyjnym zapewniamy naszym uczniom pełne wsparcie ekspertów w zdaniu egzaminu przed komisją Urzędu Dozoru Technicznego. Działamy w miastach: Warszawa, Kraków, Katowice i Bielsko-Biała, a także jesteśmy w stanie zorganizować dla naszych klientów zajęcia w formie zamkniętej w dowolnie wskazanym terminie i miejscu. Cennik naszych zajęć jest dostosowany do liczby uczestników.
Wszystkich zainteresowanych zapraszamy na kurs na ładowarkę teleskopową do ERGON Personnel Training Center!