How do you get your operator's licence?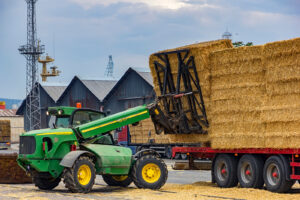 Ładowarki teleskopowe to urządzenia budowlano-rolnicze, które mają za zadanie ułatwić, a także skrócić czas pracy człowieka. Pierwsze urządzenia pojawiły się w zakładzie produkcyjnym firmy Liner i zadebiutowały na wystawie w Londynie w 1974 roku. Ładowarka składała się z wysięgnika, który miał za zadanie udźwignąć towar na wysokość ponad 6 metrów. Dopiero rosnące zainteresowanie sprawiło, że wiele firm produkcyjnych zmieniło swoje priorytety i założenia. W 1980 roku została stworzona ładowarka przegubowa z wysięgnikiem teleskopowym o zasięgu ponad 5 metrów. W 1981 roku wprowadzono ładowarkę z napędem 4×4. Pod koniec XX wieku pojawiło się nowe, stabilne i zwrotne urządzenie, a jego podstawowy projekt przetrwał i jest używany przez większość firm produkcyjnych do dziś. Każdego roku można zauważyć ulepszone i coraz bardziej nowoczesne maszyny, które posiadają dodatkowe akcesoria, większą moc i lepszy wysięg.
Współcześnie wykorzystywane w pracach transportowych m. in. do przeładunku, podnoszenia, przenoszenia, usuwania, umieszczania na określonej wysokości i transportu rożnego rodzaju materiałów. Ładowarki ze zmiennym wysięgiem, czyli wózki widłowe specjalizowane, są najczęściej używane w branży rolniczej i budowniczej. Pozwalają na bezpieczne i sprawne wykonywanie zadań. Od standardowych wózków widłowych wyróżniają się inną konstrukcją i wyposażeniem. Specjalny osprzęt umożliwia transport wielkich oraz ciężkich obiektów i materiałów. Dodatkowo zabezpieczona kabina chroni operatora przed wypadkami, a opony i napęd są przystosowane do poruszania się po wszystkich nawierzchniach- nawet tych najtrudniejszych. Dzięki silnikom o wyższej mocy i swojej specjalnej budowie wykorzystywane są w sytuacjach, w których zwykłe wózki widłowe nie zdałyby egzaminu. Duża zwrotność pozwala na wykorzystywanie tych urządzeń w miejscach z ograniczoną przestrzenią manewrową.
Głównymi elementami ładowarek teleskopowych są:
kabina operatora
wysięgnik hydrauliczny z pompą hydrauliczną
silnik spalinowy
stabilizatory przednie
koła jezdne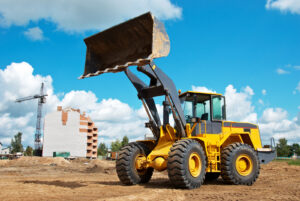 Ładowarki teleskopowe są wózkami podnośnikowymi i należą do kategorii I WJO. Nazywane wielozadaniowymi nośnikami osprzętu ze względu na zamienną fazę wysięgu. Nowoczesna konstrukcja oraz wysoka funkcjonalność ładowarek powoli przejmują miejsce starszych modeli wózków widłowych.
Ze względu na dostępność na rynku wyróżniamy następujące typy:
z napędem mechanicznym
z napędem generowanym przez silniki hydrauliczne
W napędzie hydrostatycznym do jego przenoszenia wykorzystuje się olej hydrauliczny. Elementami napędu są głównie pompy i silniki, które tworzą przekładnie. Większość ładowarek teleskopowych wykorzystywanych w rolnictwie działa na podstawie takiego układu. Maszyny z tym napędem pracują z milimetrową dokładnością. Charakteryzują się niewielkimi gabarytami, dzięki czemu łatwiej jest kontrolować prędkość, a także zmieniać kierunek jazdy. Ładowarki teleskopowe o napędzie hydrostatycznym bardziej nadają się do prac na twardej powierzchni. W sytuacjach, kiedy jest potrzeba przejechać po nierównym terenie warto rozważyć ładowarkę teleskopową z napędem mechanicznym, który wyróżnia się wyższą sprawnością oraz może poradzić sobie z większym obciążeniem na trudnym podłożu.
Uniesienie wielkiej palety na dużą wysokość wymaga mocnej i stabilnej maszyny. Ładowarka jest zaprojektowana właśnie w tym celu ze względu na jej boczne podpory stabilizacyjne. Stabilizatory są punktem podparcia ładowarki teleskopowej. Umożliwiają transport ciężkich ładunków bez ryzyka przewrócenia się maszyny, zmieniając środek jej ciężkości, wysuwa miejsce podparcia maszyny do przodu. W innym przypadku podczas podnoszenia ciężkich materiałów, gdzie środek ciężkości leży pod kołami, ładowarka przechyliłaby się do przodu.
Warto wziąć pod uwagę siłę przechyłu podczas pełnego wysunięcia ramienia. Jest to siła pomnożona przez długość ramienia. Im bardziej ramię jest wysunięte tym bardziej zwiększa się napięcie, ponieważ ciężar oddziałuje bardziej na większą długość.
Wyróżnia się dwa typy urządzeń ze względu na konstrukcję: obrotowe oraz sztywne, czołowe. Obrotowe posiadają głowicę obrotową, która umożliwia zmianę pozycji kabiny i pozwala zmienić pozycję wysięgnika o 360 stopni na platformie urządzenia. Udźwig wynosi od 3 do 5 ton, a wysięg do 30 metrów. Natomiast sztywne, czołowe są rodzajem ładowarek, w których kabina operatora jest sztywno zamontowana na ramie urządzenia i nie obraca się względem podwozia. Wysięgniki znajdują się po prawej stronie. Maszyny mogą być wyposażone w podpory boczne. Udźwig wynosi średnio od 1,5 do 20 ton, a wysięg do 20 metrów. Mają one ograniczoną mobilność i wykorzystywane są głównie do transportu pionowego. W tej sytuacji szczególnie popularne są ładowarki kompaktowe. Istnieją też modele z podporami, które gwarantują wyższy udźwig. Ładowarki obrotowe i czołowe są urządzeniami wielofunkcyjnymi o dużym potencjale. Wykorzystuje się je w wielu gałęziach działalności. Na placach budowy są niezastąpione. Można je użyć m.in. do podnoszenia drewnianych części konstrukcji, ciężkich prefabrykatów betonowych lub dużych elementów budowlanych. Dobrze poradzą sobie na trudnym terenie o nierównej powierzchni.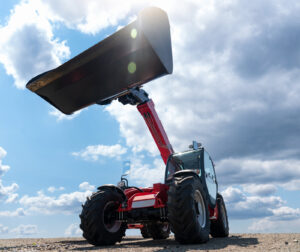 W rolnictwie te urządzenia można coraz częściej zauważyć w nowoczesnych gospodarstwach. Odpowiedni osprzęt umożliwia m.in. wygodny i sprawny transport paszy, siana, worków, płodów rolnych, beczek, palet itp. Używane są również przy stawianiu ogrodzeń do transportu ciężkich partii, a także ładunku oraz rozładunku różnych części. W kopalniach podziemnych lub w tych, gdzie wydobywa się kruszywo drogowe również zauważyć można ładowarki teleskopowe. W tym przypadku stosowane są elektryczne pojazdy, aby uniknąć generowania szkodliwych spalin. Na terenach lotnisk używane jako platformy transportowe umożliwiają wykonanie szybkiego przeglądu samolotu, zatankowanie lub sprawne wykonanie naprawy. Gwarantując bezpieczną realizację wykonywanych zadań sprawdzają się przy operowaniu ciężkimi pniami oraz drewnem w przemyśle drzewnym. Jest to tylko kilka z wielu możliwości wykorzystania tych urządzeń.
Osoby zainteresowane obsługą ładowarek teleskopowych muszą ukończyć kurs i zdać egzamin z wynikiem pozytywnym, aby uzyskać odpowiednie entitlements w kategorii I WJO dla wózków specjalizowanych wydawane przez Urząd Dozoru Technicznego. Uprawnienia wydane na inne wózki widłowe nie upoważniają do obsługi ładowarek teleskopowych. Zapisując się na training wystarczy mieć ukończone 18 lat oraz wykształcenie co najmniej podstawowe, a także mieć zaświadczenie lekarskie potwierdzające brak zastrzeżeń do pracy na stanowisku operatora. W trakcie kursu uczestnicy zdobywają wiedzę teoretyczną na temat zasad BHP, eksploatacji urządzenia oraz wiele innych cennych informacji przydatnych na tym stanowisku. Oprócz tego muszą zaliczyć zajęcia praktyczne.