What is a crane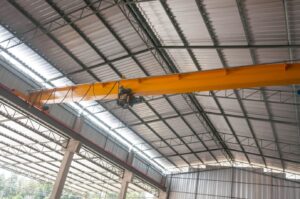 An overhead crane is a crane used in what is known as short-haul transport to move heavy loads. Characteristic of this type of crane is its simple and uncomplicated construction. This is because it is a simple horizontal steel beam with a hoist moving on it. In turn, the beam itself, called a bridge, is supported at both ends on travelling girders or directly on rail guides. 
Overhead travelling cranes are ideal for use in open areas on larger or smaller building sites or at all types of loading docks for sea, rail or road transport. They are also indispensable in enclosed areas such as smaller or larger production or assembly halls in heavy industry, where it is not unnecessary to move heavy or bulky components. 
Unfortunately, in addition to the great advantage of the high lifting capacity of such an overhead crane, it also has its limitations arising directly from its design. These include:  
limited range of movement due to the length of the track,

 

limited weightlifting height related to the structural height of the girders used,

 

limited dimensions of the displaced load due to the length of the bridge.

 
There are many types of cranes that are structurally different from each other. These differences are closely related to their intended use, as well as to the spatial constraints imposed by the characteristics of the workplace of a particular device. And these are cranes: 
bridge to track,

 

suspended platforms,

 

gated,

 

half-gate,

 

cantilevered,

 

columnar,

 

modular.

 
In cranes, you will also find different technical solutions related to their drive. Electric, hydraulic and pneumatic drives are used, or a combination of these depending on the design. But there are also simple overhead cranes that are uncomplicated in their design and manually operated without mechanical drives. 
The control of such a device is not something from the category, "difficult" and can be done from different levels. Whether from a cabin placed on the crane or from the working level, i.e. the level from which we lift the load, the crane can be controlled via various types of wired or un-wired controllers. The crane can also be controlled in automated processes using specialised computer software.          
For many years, ERGON has been involved in, among other things, organising training courses to prepare candidates to become crane operators and maintainers. During the course, you will gain theoretical and practical knowledge on issues related to the operation of these devices under the guidance of trainers with many years of experience. You will not only be trained in the principles of operation and handling of such equipment, but you will also be introduced to the principles of occupational health and safety in accordance with the current legal regulations on issues related to them. During such training, the instructors will prepare you with theoretical as well as practical knowledge for the exam on the entitlements crane operator. Such an examination is organised by the UDT (Office of Technical Inspection), which is appointed for this purpose and which is at the same time authorised to issue the relevant certificates certifying the necessary qualifications to work with specific equipment.  
Since working with cranes is physical work and is one of the activities associated with various risks and nuisances, candidates are required to have a medical certificate and a psycho-technical examination. The medical examination must confirm that there are no medical contraindications to the occupation of crane operator, which is accompanied by such inconveniences as working in changeable weather conditions, excessive noise, often insufficient and changeable lighting, high physical exertion or staying too long in an unchanging position. The psycho-technical test, on the other hand, must confirm that the candidate has the necessary aptitude to work with cranes. Specifically, it must establish the absence of any psycho-physical disorder that could interfere with the correct and safe handling of the crane operations that could expose the applicant or third parties to the risk of accident. 
Courses conducted by ERGON training centres are organised in a variety of formulas flexibly adapted to the circumstances and needs of the client, taking into account the client's requirements with regard to the choice of location and date of the training taking place. Theoretical and practical training can take place at ERGON centres as well as at locations specified by the client. Classes can be held in various configurations. Either stationary in a comprehensive or modular way, with theoretical and practical knowledge divided according to the location of the crane with which practical classes are held, or hybrid, i.e. remote and stationary with theoretical and practical knowledge divided according to the location of the crane with which practical classes are held. Remotely, only with regard to theoretical knowledge using public communicators and stationary with regard to cognitive knowledge and practical exercises using the crane.