Czym jest suwnica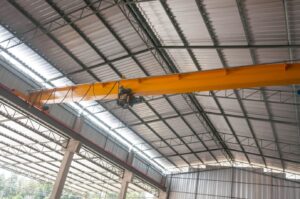 Suwnica jest dźwigiem używanym w tak zwanym transporcie bliskim do przenoszenia ładunków ciężkich. Charakterystycznym dla tego typu dźwigu jest jego prosta i nieskomplikowana budowa. Jest to bowiem prosta pozioma stalowa belka z przesuwającą się na niej wciągarką. Sama natomiast belka nazywana mostem oparta jest na jej obu końcach na dźwigarach jezdnych lub bezpośrednio na prowadnicach szynowych. 
Suwnice sprawdzają się doskonale w terenie otwartym na większych lub mniejszych placach budów czy wszelkiego rodzaju portach przeładunkowych w transporcie morskim, kolejowym czy kołowym. Niezastąpione są także w obszarach zamkniętych takich jak mniejsze lub większe hale produkcyjne czy montażowe w przemyśle ciężkim, gdzie nie zbędne jest przemieszczanie ciężkich lub wielkogabarytowych elementów konstrukcyjnych. 
Niestety oprócz ogromnej zalety jaką jest duży udźwig takiej suwnicy ma ona też swoje ograniczenia wynikające bezpośrednio z jej konstrukcji. Są nimi:  
ograniczony zakres ruchu wynikający z długości toru jazdy,

 

ograniczona wysokość podnoszenia ciężaru związana z wysokością konstrukcji użytych dźwigarów,

 

ograniczone wymiary przemieszczanego ciężaru wynikające z długości mostu.

 
Istnieje wiele rodzajów suwnic konstrukcyjnie różniących się od siebie. Te różnice ściśle związane są z  ich przeznaczeniem, a także ograniczeniami przestrzennymi wynikającymi z charakterystyki miejsca pracy konkretnego urządzenia. I są to suwnice: 
pomostowe na torowe,

 

pomostowe podwieszane,

 

bramowe,

 

pół-bramowe,

 

wspornikowe,

 

columnar,

 

modułowe.

 
W suwnicach znajdziemy też różne rozwiązania techniczne związane z ich napędem. Stosuje się napędy elektryczne, hydrauliczne i pneumatyczne lub łącznie w różnych kombinacjach w zależności od konstrukcji. Ale istnieją także proste nieskomplikowane w swej budowie suwnice bez napędów mechanicznych obsługiwane ręcznie. 
Sterowanie takim urządzeniem nie należy do rzeczy z kategorii, "trudne" i może odbywać się z różnych poziomów. Z poziomu kabiny umieszczonej na suwnicy czy z poziomu roboczego, czyli poziomu z którego podnosimy ciężar sterownie suwnicą może odbywać się za pośrednictwem różnego rodzaju kontrolerów przewodowych, jak i bez przewodowych. Suwnicą możemy sterować także w procesach zautomatyzowanych przy użyciu specjalistycznego oprogramowania komputerowego.          
Firma ERGON od wielu lat zajmuje się między innymi organizowaniem szkoleń przygotowujących kandydatów na operatorów i konserwatorów suwnic. Na kursie zdobędziesz wiedzę teoretyczną i praktyczną w zakresie zagadnień związanych z problematyką obsługi tych urządzeń pod okiem trenerów z wieloletnim doświadczeniem. Zostaniesz przeszkolony nie tylko w zakresie zasad działania i obsługi takiego urządzenia, ale także zostaniesz zapoznany z zasadami bezpieczeństwa i higieny pracy zgodnie z obowiązującymi regulacjami prawnymi dotyczącymi zagadnień z nimi związanych.   Na takim szkoleniu instruktorzy przygotują Cię z zakresu wiedzy teoretycznej jak i praktycznej do egzaminu na entitlements suwnicowego. Egzamin taki organizowany jest przez powołany do tego UDT (Urząd Dozoru Technicznego), który jednocześnie uprawniony jest do wydawania odpowiednich certyfikatów zaświadczających o niezbędnych kwalifikacjach do pracy z konkretnymi urządzeniami.  
Jako że praca z suwnicami jest pracą fizyczną i należy do zajęć związanych z różnego rodzaju zagrożeniami i uciążliwościami od kandydatów wymagane jest zaświadczenie lekarskie i badanie psychotechniczne. Badanie lekarskie musi potwierdzić brak przeciwwskazań medycznych do wykonywania zawodu suwnicowego któremu towarzyszą takie niedogodności jak praca w zmiennych warunkach atmosferycznych, nadmierny hałas, często nie wystarczające i zmienne oświetlenie, duży wysiłek fizyczny czy też zbyt długie przebywanie w nie zmiennej pozycji. Natomiast test psychotechniczny musi potwierdzić posiadanie przez kandydata niezbędnych predyspozycji pozwalających na pracę z suwnicami. A dokładniej musi stwierdzać brak zaburzeń psychofizycznych mogących zakłócić prawidłowe i bezpieczne prowadzenie operacji związanych z pracami przy użyciu suwnicy które mogły by narazić jego samego lub osoby trzecie na niebezpieczeństwo wypadku. 
Kursy prowadzone przez ośrodki szkoleniowe ERGON organizowane są w różnych formułach elastycznie dostosowanych do okoliczności i potrzeb klienta z uwzględnieniem jego wymagań pod kątem doboru miejsca i terminu odbywającego się szkolenia. Szkolenie teoretyczne i praktyczne może odbywać się w ośrodkach ERGON jak i w miejscach wskazanych przez klienta. Zajęcia mogą odbywać się w różnych konfiguracjach. Stacjonarnie kompleksowo bądź modułowo z podziałem na wiedzę teoretyczną i praktyczną z uwzględnieniem miejsca stacjonowania suwnicy z którą odbywają zajęcia praktyczne lub hybrydowo czyli zdalno-stacjonarnie z podziałem na część teoretyczną i praktyczną. Zdalnie, tylko w zakresie wiedzy teoretycznej z użyciem ogólnodostępnych komunikatorów i stacjonarnie w zakresie wiedzy poznawczej i ćwiczeń praktycznych z użyciem suwnicy.