Training in the safe operation of temporary belay points
Eksploatacja punktów asekuracji
Firma ERGON zaprasza na kurs z zakresu obsługi, montażu i przeglądów tymczasowych punktów asekuracji (tzw. liny życia). Osoby znające zasady bezpiecznej eksploatacji są bardzo pożądane przez pracodawców, ponieważ według danych GUS wypadki związane z pracami na wysokości stanowią największą część niebezpiecznych incydentów, do których dochodzi w czasie pracy.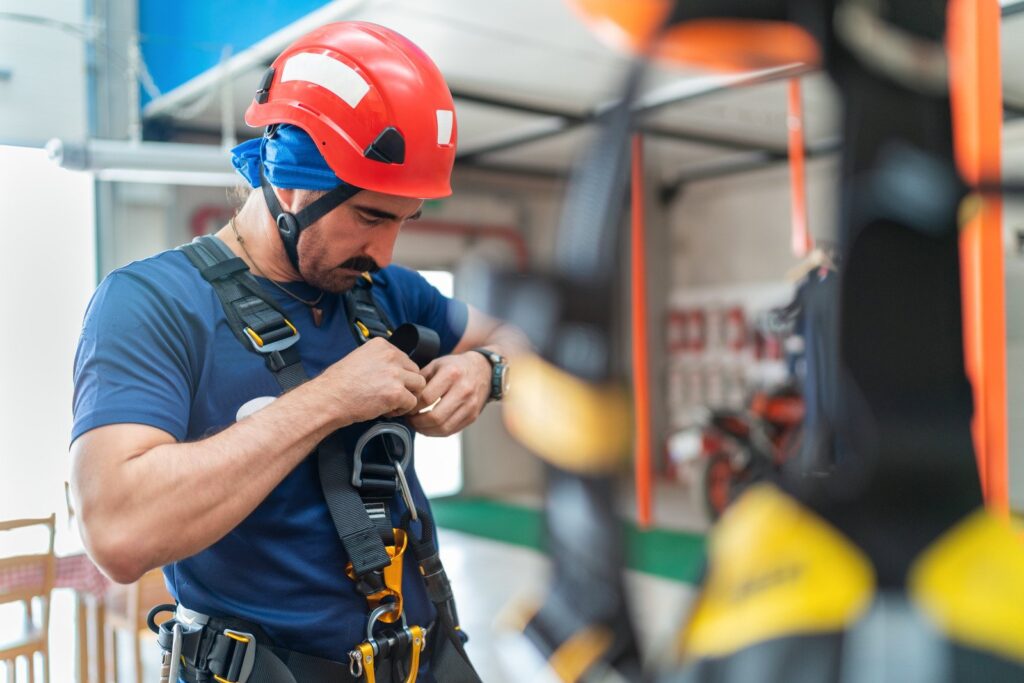 Thematic scope
Zajęcia szkoleniowe obejmują między innymi takie zagadnienia:
nauka montażu i konserwacji systemów tymczasowych,
szkolenie produktowe – eksploatacja,
nauka przeprowadzania przeglądów okresowych,
przepisy prawne oraz organizacja dotycząca prac na wysokości,
ocena ryzyka,
plany awaryjne,
rodzaje stanowisk i punktów asekuracyjnych,
zasady budowy różnych stanowisk i punktów asekuracyjnych,
sposoby wiązania węzłów,
środki ochrony indywidualnej (SOI),
zasady i techniki dotyczące ratownictwa i autoratownictwa,
zasady BHP i odpowiedzialność za złamanie przepisów,
zagrożenia występujące podczas pracy na wysokości,
sposoby zapobiegania najczęściej występującym wypadkom.
Lina życia – charakterystyka
Lina życia jest zaliczana do urządzeń asekuracyjnych, których zadaniem jest zabezpieczenie pracowników w trakcie wykonywania prac na wysokości. Użycie liny życia zmniejsza ryzyko powstania efektu wahadła. Montaż liny życia stanowi tymczasowy mobilny system asekuracji, który umożliwia podpięcie się do niego kilku osobom jednocześnie. Lina życia: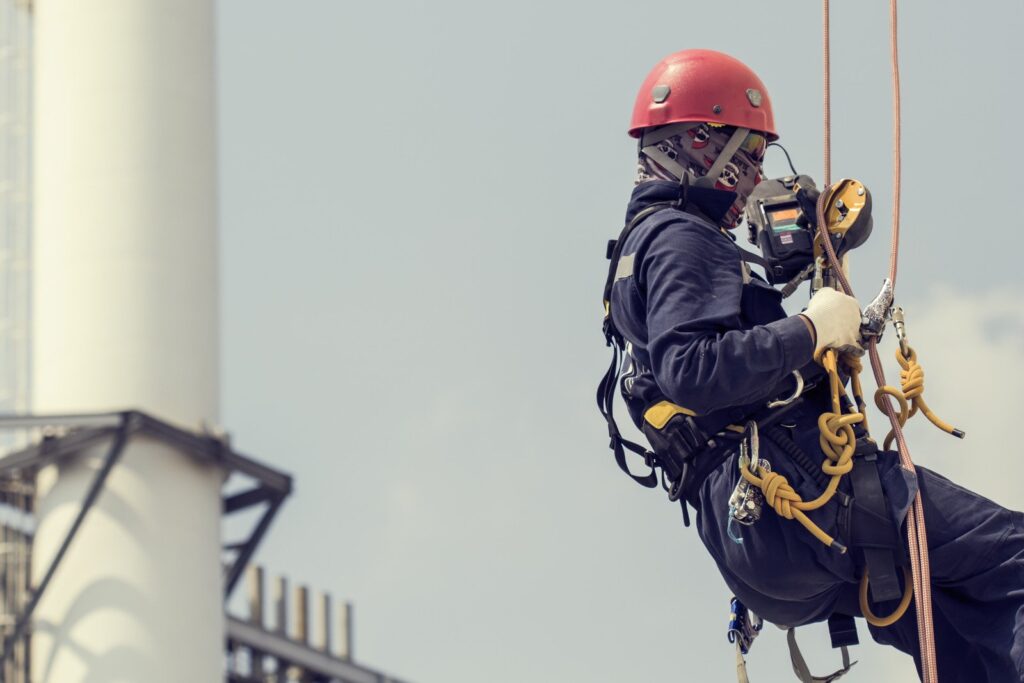 przeciwdziała potknięciom i upadkom,
zabezpiecza użytkownika przed upadkiem z wysokości,
podnosi poziom bezpieczeństwa pracy na placu budowy.
Tymczasowe punkty asekuracyjne umożliwiają, gdy zajdzie taka potrzeba, łatwy montaż i demontaż, a przede wszystkim nie naruszają struktury elementu, do którego są montowane. Mogą wystąpić w formie taśmy lub linki opasającej elementy stałe, których końce łączy się za pomocą np. karabińczyka (musi posiadać certyfikat) lub w formie haka, belki rozporowej lub statywów bezpieczeństwa.
Training program
zajęcia teoretyczne,
zajęcia praktyczne.
Kurs jest poparty dokumentacją szkoleniową, a po otrzymaniu pozytywnego wyniku egzaminu, kursant otrzymuje certyfikat potwierdzający uzyskane uprawnienia.
Requirements for the candidate
be at least 18 years old,
posiadać co najmniej podstawowe/gimnazjalne wykształcenie,
stan zdrowia potwierdzony zaświadczeniem lekarskim umożliwiający pracę na wysokościach,
brak lęku wysokości.
Location of training
Firma ERGON organizuje kursy zawodowe m.in. w Warszawie i Krakowie, ale także w wielu innych miastach w Polsce.
Our offer
Oferujemy także kursy wysokościowe:
z ewakuacji osób na wysokości,
z ewakuacji osób z przestrzeni zamkniętych,
z wykorzystania technik dostępu budowlanego,
z wykorzystania technik dostępu budowlanego z elementami dostępu linowego,
z technik dostępu linowego I stopnia,
z technik dostępu linowego II stopnia,
z technik dostępu linowego III stopnia.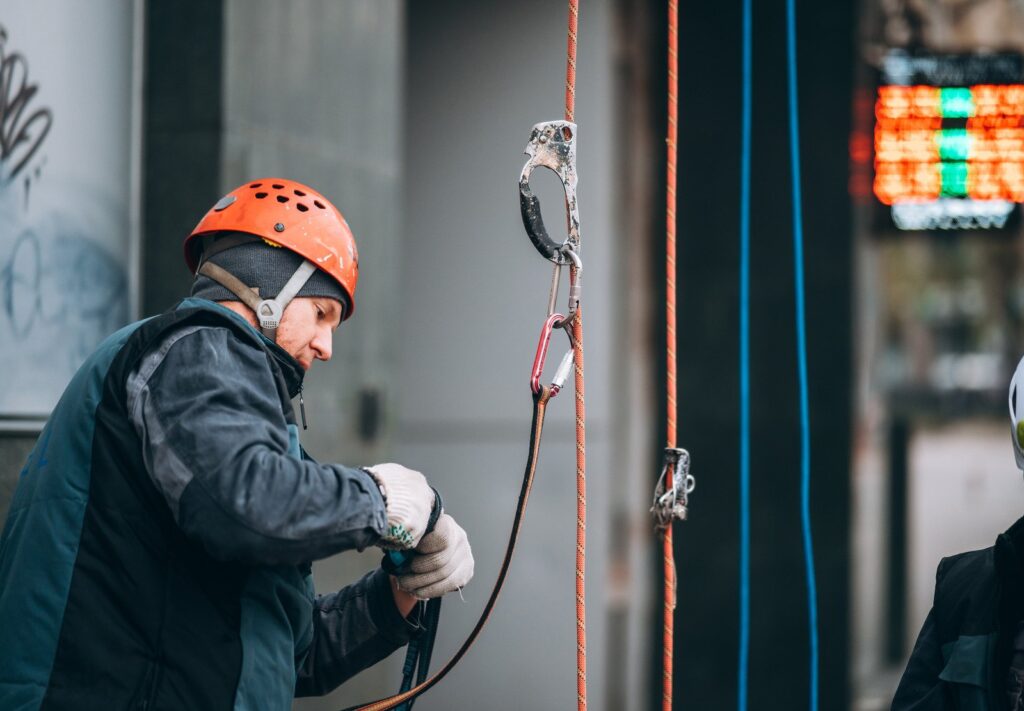 Trust us
We are a training company with many years of experience,
posiadamy wykwalifikowanych instruktorów,
oferujemy atrakcyjne ceny kursów,
wyróżnia nas indywidualne podejście do każdego kursanta.
Questions and answers
Co to jest lina życia?

To urządzenia asekuracyjne, które zwiększają poziom bezpieczeństwa osób pracujących na wysokości.
Co obejmuje szkolenie z bezpiecznej eksploatacji tymczasowych punktów asekuracyjnych?

Kurs składa się z zajęć teoretycznych oraz zajęć praktycznych prowadzonych przez doświadczonych instruktorów. Uczestnik szkolenia nauczy się zasad korzystania z tymczasowych punktów asekuracyjnych, aby praca na wysokości była jak najbardziej bezpieczna.
Czy oferujecie także kurs z dostępu budowlanego albo linowego?

Tak. Nasza firma posiada rozbudowaną ofertę szkoleń wysokościowych.