What are telehandlers?
Ładowarki teleskopowe to forklift trucks z mechanicznym napędem podnoszenia z wysięgnikiem. Ramię urządzenia jest przeznaczone do przenoszenia ładunków, a swoją budową przypomina teleskop. Za pomocą ramienia swobodnie można je wydłużyć i pracować na wysokości w pionie jak i poziomie.
Ładowarki teleskopowe należą do kategorii urządzeń transportu bliskiego, dlatego aby je obsługiwać konieczne są entitlements i zaświadczenie kwalifikacyjne wydawane przez Urząd Dozoru Technicznego.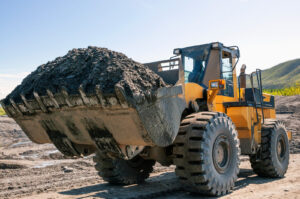 Ładowarka teleskopowa dzieli się na dwie kategorie:
Czołowa (sztywna) – w przypadku ładowarki teleskopowej czołowej wysięgnik znajduje się po prawej stronie maszyny, a zakres udźwigu wynosi nawet do 20 ton, na wysokość kilkudziesięciu metrów. Kabina operatora i teleskopowe ramię połączone są sztywno z podwoziem urządzenia, przez co nie ma możliwości ruchu ramienia w poziomie. Podając ładunki na dużych wysokościach potrzebna jest do tego przestrzeń, nie tak jak w przypadku ładowarki obrotowej, która nie wymaga tyle miejsca. Niesprzyjającym elementem w tego typu ładowarkach jest ograniczony manewr ruchu, możemy podjechać do miejsca pracy wyłącznie z jednej strony. Jednak dzięki swoim zastosowaniom i dużym udźwigu ładowarki te, są niezastąpione do podawania ciężkich ładunków na dużych wysokościach. Dzięki temu są wykorzystywane między innymi przy budowie mostów i wysokich budynków.
Obrotowa – to maszyna, która bazuje na obrotnicy, w tym przypadku możliwy jest ruch ramienia w poziomie. Przewagą tej ładowarki jest możliwość unoszenia ładunku nawet do 30 metrów. Udźwig w tego typy urządzenia jest już znacznie mniejszy, wynosi on od 3 do 5 ton. Kabina operatora wraz z teleskopowym ramieniem mogą wykonać nawet pełny obrót o 360°, co znacznie ułatwia sterowanie urządzeniem. Dzięki możliwości obrotu ramienia w poziomie, ładowarka potrzebuje znacznie mniej miejsca i nie wymaga dużej precyzji ustawienia na placu budowy. Pozycję maszyny wraz z ładunkiem można korygować na bieżąco, dzięki czemu nie ma przestoju w pracy.
Application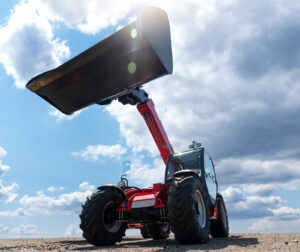 Ładowarki teleskopowe mają szerokie zastosowanie w wielu branżach. Tego rodzaju wózki jezdniowe świetnie sprawdzają się m.in. w budownictwie, rolnictwie i lotnictwie. Konkretne zastosowanie maszyny zależy od jej typu i założonego osprzętu. Wymienne części znacznie poszerzają zastosowanie ładowarek teleskopowych, dzięki temu są to maszyny niezwykle uniwersalne.
Najczęściej wybierany osprzęt:
widły,
wciągarki,
chwytaki,
łyżki,
pługi,
kosiarki
Wyżej wymienione elementy pozwalają na wykonywanie prac związanych z podnoszeniem i transportem ładunków a nawet ludzi.
Ładowarka na budowie
Ładowarki są niezastąpionym urządzeniem na placu budowy, dzięki dużemu udźwigowi łatwo można transportować kamienne bloki i różnego rodzaju konstrukcje. Ich zaletą jest to, że bez problemu mogą pracować na trudnym, rozkopanym terenie budowy. Przez szeroką funkcjonalność możemy znacznie przyśpieszyć prace budowlane nie wykorzystując wielu pracowników, dzięki czemu zaoszczędzimy czas i pieniądze.
Ładowarka w rolnictwie
Co raz częściej można spotkać wózek jezdniowy w nowoczesnym gospodarstwie rolniczym. Z odpowiednio dobranym osprzętem możemy wykorzystać ładowarkę do różnych prac porządkowych. Dzięki swojemu zastosowaniu, wózek jezdniowy znacznie szybciej i wygodniej umożliwia transport siana i paszy.