What is a scissor lift?
Podnośnik nożycowy – na co zwrócić uwagę?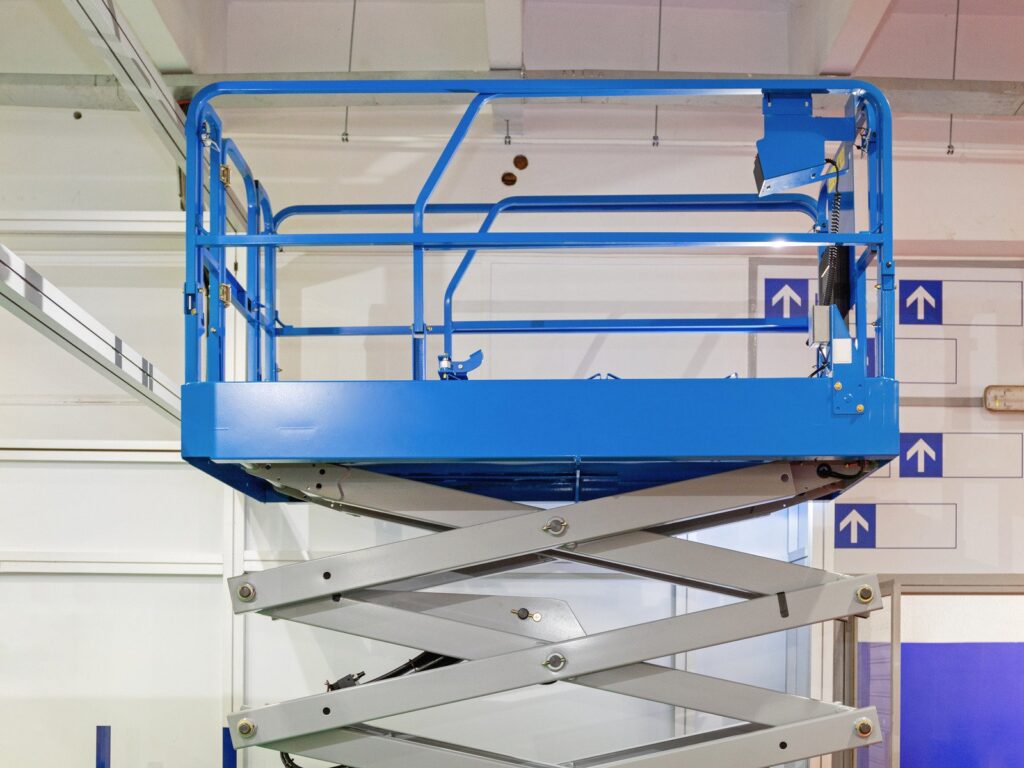 Podnośnik nożycowy znajduje zastosowanie podczas prac wysokościowych. Dzięki swojej budowie zapewnia wysokie bezpieczeństwo użytkowania bez potrzeby montowania rusztowania. Maszyna ta służy do podnoszenia zarówno ludzi jak i materiałów budowlanych czy przedmiotów o dużej masie. Usprawnienia związane z użytkowaniem podnośników są najchętniej wykorzystywane w serwisach samochodowych, pracach załadunkowych oraz w dziedzinie logistyki – wszelkiego rodzaju transporcie.
Budowa i działanie podnośnika nożycowego
Sama nazwa podnośnika nożycowego wskazuje, że składa się on z charakterystycznego układu systemu podnośnikowego – kształtem przypominającego nożyce. Podwójny układ nożyc stworzony jest z krzyżujących się profili, które w zależności od wysokości składają się i rozkładają regulując wymagane pole robocze. Mobilność w podnośnikach nożycowych zapewniają koła przymocowane do podstawy, gwarantuje to swobodę przemieszczania się maszyny. Sterowanie maszyny dobywa się za pomocą pilota i pulpitu sterującego na szczycie platformy roboczej. Podest porusza się wyłącznie w pionie. Platforma posiada zabezpieczenie w postaci barierki – szczególnie ważne podczas prac wysokościowych.
Rodzaje podnośników nożycowych
Aby w pełni wykorzystać potencjał podnośnika nożycowego należy wybrać odpowiedni rodzaj maszyny, względem planowanych prac. Użyteczność podnośników uwarunkowana jest rodzajem ich napędu – wśród nich wyróżniamy: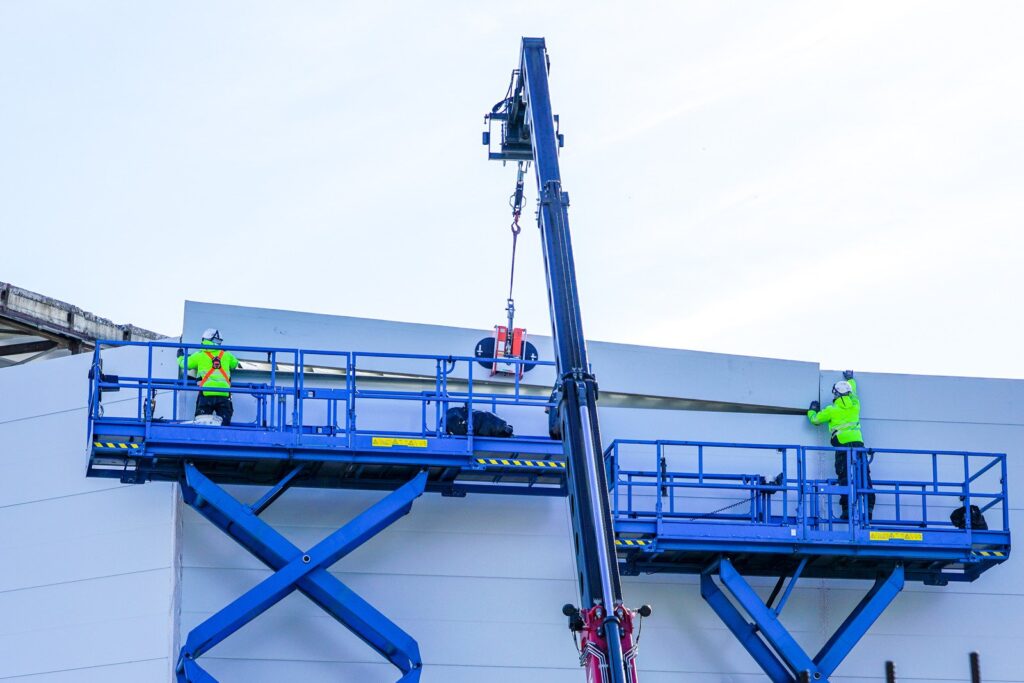 elektryczny podnośnik nożycowy – doskonale sprawdzi się podczas prac wewnątrz budynków ze względu na swoją kompaktowość, cichą pracę oraz brak emisji spalin;
spalinowy podnośnik nożycowy – to urządzenie swoją budową przystosowane jest do prac w ekstremalnych warunkach na zewnątrz. W porównaniu do elektrycznych charakteryzuje się większą mocą i udźwigiem. Nie zaleca się stosowania tego rodzaju podnośnika wewnątrz budynku ze względu na hałaśliwość i emisję spalin.
Zastosowania podnośników nożycowych
Zgodnie z podziałem na wyżej wymienione rodzaje zasilania można zaklasyfikować dane podnośniki nożycowe do konkretnych prac.
Podnośniki o napędzie elektrycznym mogą być sukcesywnie wykorzystane do prac wewnątrz budynków. Najchętniej korzystają z nich obiekty wielko powierzchniowe, takie jak hale produkcyjne i magazynowe, hangary czy supermarkety. Podnośniki o mniejszych wysięgnikach sprawdzą się w warsztatach samochodowych podczas przeglądów i napraw podwozi samochodowych. Dodatkowo jest to urządzenie wykorzystywane do prac wykończeniowych w budownictwie.
Podnośnik z napędem elektrycznym polecany jest w pracy na zewnątrz budynku lub podczas jego wznoszenia. Maszyna przystosowana jest do zakładania klimatyzacji, montażu elewacji oraz malowania ścian. Chętnie wykorzystywana jest również do prac ogrodowych m.in. podczas przycinania gałęzi drzew.
Na co zwrócić uwagę wybierając podnośnik nożycowy?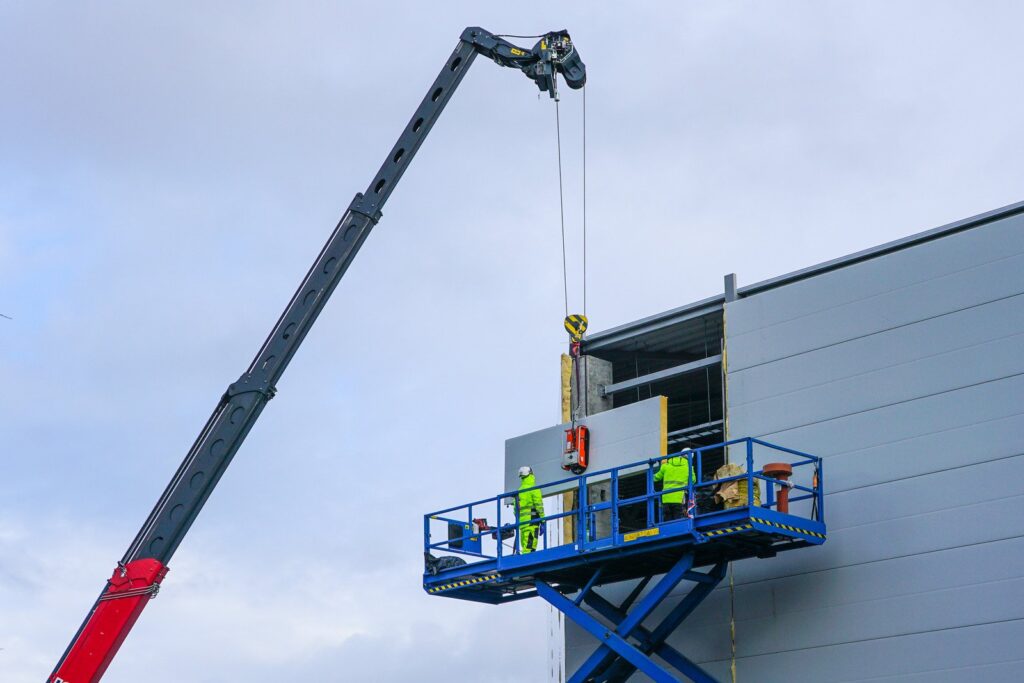 Maksymalne obciążenie – przede wszystkim, trzeba wziąć pod uwagę, jakie obciążenie będzie podnosił podnośnik. Każdy podnośnik ma swoje maksymalne obciążenie, które nie powinno być przekroczone.
Wysokość podnoszenia – należy określić, na jaką wysokość podnośnik będzie potrzebny. Wysokość podnoszenia również różni się w zależności od modelu i producenta.
Rozmiar platformy – wielkość platformy powinna być dostosowana do rodzaju prac, jakie będziemy wykonywać. W przypadku, gdy podnośnik ma być wykorzystywany w wąskich przestrzeniach, warto wybrać model z mniejszą platformą.
Zasilanie – podnośniki nożycowe mogą działać na różne źródła zasilania, takie jak prąd, benzyna lub hybryda. W zależności od potrzeb, warto wybrać model z odpowiednim zasilaniem.
Questions and answers
Jak korzystać z podnośnika nożycowego?

Podnośnik sterowany jest za pomocą pilota oraz pulpitu sterującego na platformie roboczej.
Gdzie stosować podnośniki nożycowe?

W zależności od sposobu napędu możemy stosować je zarówno wewnątrz jak i na zewnątrz budynku.
Czy podnośnik nożycowy zastąpi rusztowanie?

Tak, podnośniki nożycowe są szybszą w montażu i bezpieczniejszą alternatywą dla rusztowań.